Thursday, May 29, 2008
High-Tech Buyer's Guide
Entering the glass-cockpit age has gotten more affordable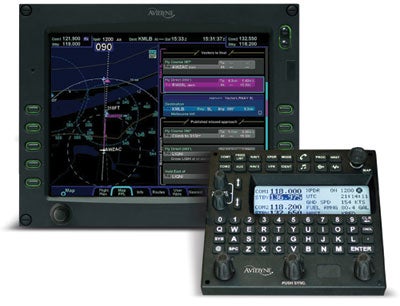 Avidyne Entegra FMS900W
An interesting trend has been emerging: Upgrades for existing aircraft are bringing older airplanes into the modern, electronic, glass-cockpit age. Glass upgrades or even whole retrofit panels can make you think you're flying the newest aircraft in the sky.
Garmin's Synthetic Vision Technology has been a recent crowd pleaser, and the VistaNav portable system (now exclusively marketed by Honeywell) is available for any aircraft, even those without electrical systems (though the obvious mismatch is noted). Avidyne is bringing front-line glass panels to many legacy aircraft; Aspen Avionics is doing it one module at a time. Engines and systems aren't overlooked either; and portable navigation, weather and traffic monitoring are all widely available, at ever-better prices.
All of these safety enhancements provide better situation awareness and improved navigation capabilities, but that doesn't mean we should overlook the basics, like watching for that ol' nemesis, carbon monoxide. With the availability of affordable technology, we now have absolutely no excuses.
Avidyne Entegra FMS900W
New technologies are powerful. Unfortunately, they're often complicated, so Avidyne decided to make the latest WAAS and required navigation performance (RNP) technologies available to the solo IFR pilot. The company integrated heavy-duty capability into an intuitive, user-friendly FMS, which lowers pilot workload with automatic NAV/COM tuning and ident, flight-plan invert and holding pattern info (all the while maintaining four COM and four NAV channels, operating simultaneously). Particularly impressive are Airway Flight Planning and Avidyne's exclusive GeoFill, which together reduce flight-plan data entry by as much as 75%. Announcements on pricing and availability will be available later this year. Learn more at
www.avidyne.com
.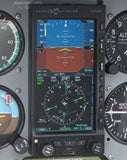 Aspen Avionics
Aspen Avionics of Albuquerque, N.M., is creating an empire based on the world's huge inventory of perfectly good steam-gauge GA aircraft and the supreme desirability of glass-cockpit technology. With STCs for dozens of popular airplanes, the PFD and MFD modules fit the original holes and present all the information you're used to from glass, while interfacing with most existing technology, including GPS, VHF navigators, autopilots and many FMS. Each module features a built-in air data computer that displays wind speed, wind direction and true airspeed. Upgraders can add units as budgets permit: PFD, MFD, redundant PFD—unit capability is somewhat customizable (and priced according to desired capability). Learn more at
www.aspenavionics.com
.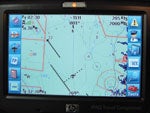 Anywhere Map Travel Companion (ATC)
The Anywhere Map Travel Companion is a full-function aviation navigator with tons of extra features (like 100LL.com fuel pricer/locator and "cones of safety" glidepath information). About the size of Garmin's 496, but roughly half as thick, the Traffic Companion uses a dual-core processor and doesn't need an external antenna; its no-knob, touch-screen face features a larger screen with double the resolution of the 496. On the ground, its street-mapping offers 3D building detail. All software is preloaded—just turn it on and use it. A fully loaded version, with XM WX and Pocket Plates approach plates, goes for $1,695; a bare-bones version costs $895. Learn more at
www.anywheremap.com
.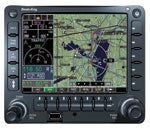 Bendix/King Apex Edge Series KSN 770
Designed specifically for the retrofit market, the KSN 770 Integrated Communication Navigation Display, part of the Apex Edge Series, brings higher-end Honeywell functionality into general aviation. On one 5.7-inch screen, it combines 24-channel WAAS/LPV capability with IFR GPS navigation, integrated TAWS, a weather radar display and 16-watt digital VHF NAV/COM/ILS units. Higher-end options include displays for on-board weather radar, lightning, datalink weather, TCAS and TAWS-B. We predict that it won't be long before this system is also offered in the OEM market. Suggested retail price is $13,995. Learn more at
www.bendixking.com
.
For a complete review of this product, read "Tech Talk: KSN 770" (
Plane & Pilot
August 2008), available on newsstands or at planeandpilotmag.com/products/tech-talk.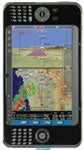 Bendix/King VistaNav 1000
Synthetic vision systems are all the talk lately, but we want to remind you that they've been in the experimental market for several years, providing what looks like a "severe clear" 3D VFR picture of what's outside, even at night, in clouds or with a bird on the windscreen. Bendix/King's VistaNav portable synthetic vision operates on a Samsung tablet PC and interfaces through a Bluetooth link with a small box that contains a WAAS/GPS, solid-state gyros and pressure sensors. Utilizing aircraft or battery power, the Bendix/King VistaNav 1000 helps you fly a Highway in the Sky (HITS) route through "visible" terrain, with options for NEXRAD weather, TAFs, TFRs, METARs and NOTAMs. Learn more at
www.bendixking.com
.
Page 1 of 2