Tuesday, January 25, 2011
Sporty's 50 Years On The Pulse Of GA
A look at our collective pilot philosophy through the gear we buy and why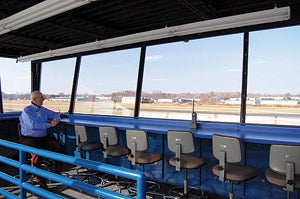 At Sporty's, each order is reviewed manually, and no products are shipped until they have been verified by an employee. Hal Shevers takes in the runway view at Clermont County Airport in Batavia, Ohio.
Gear Surprises
We pilots are a surprising bunch. Just when you think we're going to zig, we zag. Hal Shevers and his team keep tabs on these things and shared them with me during a grand tour that included Sporty's vast warehouse, Sandy's Airpark, and an immaculate aircraft maintenance facility.
"We try to focus on the little guy flying a piston airplane somewhere," explains Shevers, "and because we actually fly, we get to see what works and what doesn't."
It seems we aviators like the security of paper charts because old-fashioned paper sectionals sold like crazy, even with the proliferation of applications on smart devices. Same with manuals like the
FAR/AIM
. Apps are great, but we'll take paper for now.
Steam gauges are far from dead. "What we're seeing is that the majority of pilots out there are not on glass cockpits," says Zimmerman. Clearly, the idea that "everybody" is switching to glass panels is simply untrue. While the advantages are there, we're still not flying an all-glass sky.
In-flight music is hugely popular, and pilot purchases reflect that, with Bluetooth adapters, accessory modules and new headsets leading the charge. In the same vein, pilots are flocking to portable e-book readers. Sporty's has committed to growing their e-book offerings as pilots and passengers fall in love with the fact that they can read countless books without the weight and bulk of paper. Like the iPad, e-book readers look to figure prominently in aviation.
Finally, the basics still rule. Sporty's has figured out exactly what new pilots need and use, and the results aren't surprising. They are: a good home-study course, a quality headset, a modular flight bag that can grow with the student, a fuel tester, a good LED flashlight and a personal locator beacon (PLB) when the student begins to travel farther away. We all agreed that flight bags, headsets and flashlights are intensely personal items that are unique to each pilot, thus the enormous variety.
In searching for the "heart" of aviation, I found a company that's much more than a mail-order giant. I came away with the sense that these folks actually care about aviation. From their philanthropic Sporty's Foundation, to their flight-training success with Sporty's Academy and more, Sporty's is about enjoying and promoting the fun of flying. I knew this, flying high over the frozen Ohio landscape, watching the sunlight wane, from the seat of Sporty's HK36 motorglider with Chief Flight Instructor Paul Jurgens. The glorious silence was moving. And far below sat Sporty's—50 years of making flying fun. Here's to 50 more.
The Future With Hal Shevers
For Sporty's, flight training is a key component of a healthy future. Sporty's Academy has charged forward with a new approach to flight training: smaller, compartmentalized "milestones" that keep students motivated. An industry discussion at this year's AOPA Summit revealed that, on average, 80 percent of students drop out of flight training before they finish. But Sporty's is experiencing only a 30 percent dropout rate. They attribute that to their idea of not making the private certificate the main goal, instead creating smaller goals. Sporty's makes first solo a huge deal and an end in itself. Students then earn their recreational pilot certificate, "So they can start having fun with it!" says Shevers. Only then do students continue to their private certificate.

As a company, Sporty's will continue to promote aviation for the average pilot. "We'll continue our Saturday hot dog barbeques," says Shevers, "because we like to get direct feedback about our products from pilots themselves." Innovations in pilot gear will continue to drive Sporty's as new products come through their doors. "We turn down more products than we accept," Shevers tells me. The study courses that Sporty's has become famous for will continue to evolve and spread to every format available—online, DVD, iPhone, tablet, Android and anything else that comes along.

Sporty's and the products they offer are a reflection of who we are as pilots. Flying and gear go together, and they're part of the passion that fuels what we love. In Hal Shevers' words, "Training is what we're all about. Who we serve is the average person just learning to fly. And we do it because, ultimately, flying is fun."

On Saturday, May 21, Sporty's will host a special open house and fly-in to celebrate the company's 50th anniversary. Visit www.sportys.com/flyin for details.

Page 3 of 3