Tuesday, December 21, 2010
The Flight Bag Is A Pilot's Best Friend
Modern design and computer engineering have transformed the humble flight bag into a cockpit necessity

Pilot Mall
Pilot Mall Soft Leather Small Pilot Bag
www.pilotmall.com
Leather is luxurious. There's something about the feel and the smell of leather that hearkens back to the golden age of flight. Since not everybody is a fan of nylon and polyester, we thought we would include the Pilot Mall bag in the "classic" category. First, the bag comes in a choice of natural, black or black with light-brown trim leather. This bag, being on the roomier end, accommodates 10 charts, two headsets, binders and a number of extra gadgets in an array of inside and outside pockets. Thoughtful design includes a double-zippered main compartment and separate pockets for everything, from your GPS to your flashlight and much more. We like the exterior pen slots as well as the roominess and feel of the bag. It measures 16x12x11 inches. Price: $149.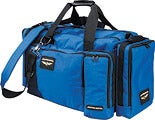 Jepessen Captain
Jeppesen Captain Bag
jeppdirect.jeppesen.com
A staple in the Jeppesen flight bag for many years, why mess with a good thing? Jeppesen knows a thing or two about aviation gear, and their Captain bag is a great example. To begin with, the bag is made from DuPont 600 denier Cordura along with a special PVC coating on the outside to make the bag water-resistant. The bag features a detachable headset case on each end, detachable transceiver/GPS bag and a four-way adjustable divider in the main compartment. We like the zippered front compartment sized to hold a laptop and the additional two roomy pockets on the bag's exterior. The blue color option is a nice touch. The Captain bag measures 12x24x13 inches. Price: $119 (blue color).

Jeppesen Pilot
Jeppesen Pilot Bag
jeppdirect.jeppesen.com
You wouldn't expect a "serious" company like Jeppesen to come out with something as downright sporty as their new Pilot Backpack, but we think they have a winner here. Some pilots love the backpack-style, "throw it over the shoulder" convenience. Resembling a modern day pack, the Jeppesen Backpack is flexible and efficient. In addition to the large main storage area, the backpack has a padded laptop sleeve, computer accessory storage and an internal file sleeve. There are pockets everywhere, and we love the cool little Jeppesen zipper pulls. There's a fleece-lined audio pocket with a headset port and a digital-media pocket that can hold various gadgets and phones. The pack is constructed of 600 denier polyester and 400x400 pindot nylon, with fleece-lined inner pockets. It measures 21x14x9½ inches. Price: $79.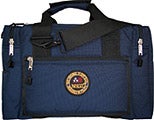 Noral
Noral Mach 1 Flight Bag
www.noralenterprises.com
The Mach 1 is Noral's latest entry in their extensive flight-bag line. Considered a "medium-sized" bag, it holds everything a pilot could want. One of the stronger bags in our list, the Mach 1 is made of 1000 denier DuPont Cordura and is fully padded with 1⁄4-inch foam and is water-resistant. We like the quality of the handle seams and the overall construction of this rugged bag. Outside pockets include headset, GPS/transceiver, pencil holders and two large end pockets, though they're not removable. The main compartment is double-zippered and opens from the top, making in-flight opening and closing easy and convenient. The padding on the pockets is a nice addition, too. The main compartment doesn't have dividers but is expansive at 13x7x9.75 inches. Overall, the Mach 1 measures 15x11x101⁄2 inches and comes in several colors. Price: $89.
Sky High Gear Discovery Flight Duffle
www.skyhighgear.com
Sky High Gear was something of an innovator with these bags. Employing patent-pending designs, these flight bags take advantage of space in an innovative way. Their small-sized Freedom VII gear bag is ideal for pilots who carry minimal equipment or are constantly moving from one small cockpit to another. Sky High's Discovery carries a ton of gear very efficiently. To start with, it's padded with closed-cell foam. Second, the Discovery is made from ultra-tough 1680 denier, dual-strand ballistic nylon. It features dedicated pockets for GPS, kneeboard, sunglasses and your EFB or smartphone. In addition to a bunch of other organizing pockets, the Discovery sports two spacious headset pockets, and a holder for 14 AA or AAA batteries and seven pens! The features list goes on and on. It's an impressive bag at 21.5x10.5x9.5 inches. Price: $99.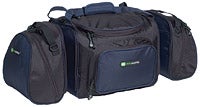 Zuluworks
Zuluworks Gazelle Flight Bag
www.zuluworks.com
Zuluworks is known for their unique Zuluboard with which many pilots have fallen in love. Zuluworks has ventured into the flight bag arena with a small line of bags, one of which is the Gazelle. The bag gives pilots 3,200 cubic inches of room to store just about anything. Two removable end bags are perfect for headsets, while a main center compartment allows storage of laptops and larger items, using three divider panels. A front organizer pocket features a card slot, pen pockets and zippered interior pocket. There's also a back pocket dedicated to your fuel tester and navigation charts. The clever end pockets have special compartments for—you guessed it—a Zuluboard (though it can fit other kneeboards). We love that you can remove one or both end pockets and end up with a small bag for quick trips, or use it in expanded form for longer adventures. The padded bag looks cool in blue or green trim. Full bag dimensions are 28x12.5x10.5 inches. Price: $119.
Page 3 of 4