Tuesday, December 21, 2010
The Flight Bag Is A Pilot's Best Friend
Modern design and computer engineering have transformed the humble flight bag into a cockpit necessity
If there's one product that has made a splash in aviation, it's Apple's iPad. The unique touch-screen tablet device has become a cockpit must-have for many pilots, thanks to a wide array of aviation applications made just for it. In many cases, the iPad is replacing multiple devices in the flight bag, and pilots are constantly finding new uses for it. With the explosion of the iPad has come a number of innovative gadgets that go with it.


DODOcase
www.dodocase.com
The DODOcase for the iPad is unusual because it brings an old-world feel to this very modern device. DODOcase is a company whose simple philosophy is to manufacture things locally and help keep the art of bookbinding alive and well by adapting it to the world of e-readers and iPads. Each DODOcase cover has its own unique character as it was handmade in San Francisco using techniques developed hundreds of years ago. What is it, you ask? It's a case for the iPad that looks like a classic, hardbound book from long ago. It might be reminiscent of a 100-year-old journal, or the notebook of a favorite artist. The case is made with the same materials used by old-world bookbinders, including bamboo wood and faux leather. Resembling a Moleskine (a family of sketchbooks and notebooks made in Milan, Italy, to classic standards), the DODOcase is quite beautiful. Price: $59.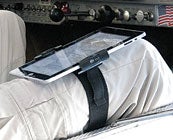 MyClip Thigh
www.tietco.com
A less classic-looking—but just as useful—accessory is the MyClip thigh attachment that allows the iPad to become a kneeboard in the cockpit. Designed by pilots for pilots who don't want their iPad sliding all over the cockpit and possibly getting damaged, the MyClip secures the iPad to your leg in either portrait or landscape mode, with a faux-suede leg strap. The simple design allows the iPad to become a true kneeboard with one-handed operation. The clips that hold the iPad are coated in TPE—a soft-rubber-like plastic—to prevent marring the iPad. The company that makes the innovative clip, TIET, is in Newbury Park, Calif., and can ship internationally. The MyClip kneeboard is priced at $39.
Page 4 of 4