Tuesday, October 6, 2009
The LSA Glass Menagerie
Start Christmas shopping now: There are tons of glass to choose from!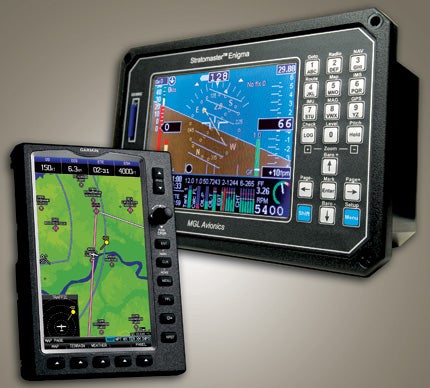 From front to back, the GPSMAP 696 from Garmin and the Stratomaster Enigma MKII EFIS from MGL Avionics
Once upon a time, intrepid pilots rapped with their oil-stained, gloved knuckles on balky steam gauges; needles quivered unstuck, and all was right across the skies. Then somebody got the bright idea that you could put aviation instrument data on those cool little computer-screen thingies, and the age of the glass cockpit was upon us quicker than you could say "bank loan."
The page-two part of this story may be how quickly LSA and experimentally built cockpits have taken the lead in the recent migration to (relatively) low-cost, super-whiz-bang electronic gizmos. The prime driver here is that FAA certification isn't required for LSA, as it is for GA aircraft. That has opened the floodgates to a broad and deep range of sophisticated, compact, affordably exotic instruments from literally scores of companies.
Today's LSA glass displays cost a fraction of what similar GA instrumentation did just a few years back. It doesn't take Nostradamus to see that, one day, all-electronic panels will be commonplace in all aircraft: They almost are already!
You know you've arrived when you can pop off the tarmac on a balmy day, climb to 5,000 feet, punch in GPS destination, flick on autopilot, dial in satellite or MP3 tunes and kick back. Now that's big bucks–style cruising on a Big Mac budget—almost. An EFIS panel, GPS and autopilot can purloin your purse of several G-notes in a hummingbird's heartbeat. Still, many who take delivery of their shiny new LSA with nothing but a handheld radio are soon haunting avionics shops or making computer-mouse skid marks to shop for the hottest of the latest superhot stuff!


Advanced Flight Systems' AF-4500EF Advanced Deck (left) and Dynon's FlightDEK-D180 (right)
EFIS Envy
If your buddy has a panel that turns his/her Aerotrekker into a Star Trekker, then you just gotta upgrade, right? Acronym alert: EFIS stands for electronic flight information system. EMS means engine monitoring system. PFD = primary flight display. MFD = multi-function display.
Advanced Flight Systems
AFS offers a variety of EFIS decks, including the new 8.4-inch AF-4500EF Advanced Deck backlit display. Any AFS screen can be configured as an EFIS, EMS or both. System features include moving map, XM weather, GPS and more. All AFS systems have full-featured voice-alert systems. Price: $5,947.
Contact:
www.advanced-flight-systems.com
.
Page 1 of 5