Tuesday, April 7, 2009
The New Peltor 9500 Digital Headset
Peltor's new headset aims for the cockpit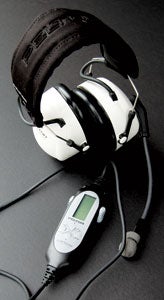 The Gentex mic boom was easy to adjust and the headset felt good on my head. It's important not to compare an ANR headset with a passive headset because passive headsets use clamping pressure as one of several barriers to block unwanted noise. ANR sets use a more sophisticated method of blocking sound. As a result, ANR headsets will usually have lower head-clamping pressure than their passive counterparts. The Peltor exerted what I'd call "average" clamping pressure on my head. The headset's two-point fasteners do distribute the pressure evenly, and the headband also works to spread the surface pressure effectively.
Before starting the engine, I got acquainted with what Peltor calls the "control pod." The pod is essentially a control box for the headset's various features. It houses two easy-to-see-and-feel rotating knobs that control volume in each ear cup.
The pod houses the jacks for cell phone and music player connections. It features a little LCD screen with backlighting to set up the headset options. The pod also houses two AA batteries to power the ANR features. The menu on the pod allows the user to select an aircraft profile (single, twin or heli) that tells the digital ANR what type of propeller and engine noise to expect. The menu also sets the type of battery you're using and the stereo/mono mode. Menu navigation is easy enough with a standard up/down, left/right arrow interface. The power button is also located on the pod.
The pod is a pretty large unit, but it needs to be accessible because it houses the volume knobs. It's a bit heavy, and I found myself fiddling around with placement, trying to get it where it wouldn't tug on the cord. Although the unit I was evaluating didn't have a clip, Peltor informed me that the production version will come with a clip to alleviate any tugging on the cable from the pod.
Peltor scores another home run with the quality of its cable. In my travels, I often see headsets that are well-engineered but suffer from a less-than-sturdy cord. Pilots, like musicians, are notorious for yanking the connector jacks out of the intercom by pulling somewhere along the cord. They're also guilty of getting the cord caught in the door or wrapping it around the headset between uses. All of these bad habits put a great deal of stress on the connecting points and on the cord itself.
Peltor provides a hefty cord that feels like it's not vulnerable to the average pilot's abusive ways. In particular, the point where the cord connects to the headset is well-made and sturdy. The thickness of the cord attests to the gauge of the wire being used, or at least to the thickness of the insulation. My feeling was that this cord would last through thousands of hours of yanking and pinching.
Page 2 of 3