Tuesday, March 12, 2013
Adventure Pilot iFly 720
A major update on the affordable portable moving map GPS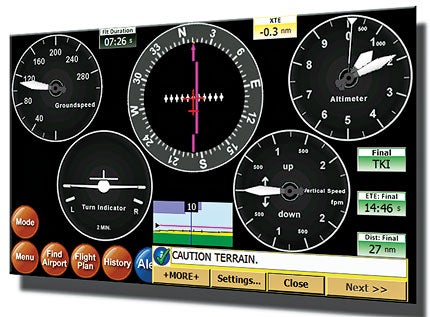 The Instruments Panel simulates real instruments and gathers info from GPS or an attached third party AHRS.  
In October 2012, I updated you here on the latest enhancements for the revolutionary, portable, affordable ($750), iFly 720 moving-map GPS. Once again, GA pilots Walter Boyd and Shane Woodson, those brainy tech wizards who head up Adventure Pilot, have raised the bar on functionality, feature set and flat out cockpit "indispensability."
Their latest v. 7.5 software update folds in major new features to join an already jam-packed list. First, let's reprise some basic highlights:
The handy device that started everything was the iFly 700 moving-map GPS. It debuted at $500 three years ago as the first production GPS with a fully functional sectional map for a background display.
The bright, clear seven-inch screen displayed navigational en route data over official Federal Aviation Administration (FAA) sectionals and incorporated a touchscreen for easy navigating. With just a tip of a finger, you could touch a course line and "rubber-band" drag it to a new waypoint to avoid weather, airspace, restricted areas and more. You could also tap any airport, restricted area, obstruction, landmark and more, for instant, on-screen detailed information. All of it was super cool, and pilots loved it.
The 700 came loaded with IFR capability, too, with IFR Low En Route Charts, Approach Plates, Airport Diagrams and more.
Sales grew steadily for the non-FAA certified unit that powers from a plug-in socket or optional battery. The competitively priced software/dataset subscription update package didn't hurt iFly's popularity either: only $69/year. The Full IFR is $109, and that includes all future software, firmware enhancements and updates. One example is iFly Streets, a robust, full-function street navigator complete with turn-to-turn voice guidance that does a bang-up job for road navigation.
Then came iFly GPS 720 with the new Version 7 software, (updatable retroactively for the 700 model as well). The 720 hardware was faster, more powerful and came with impressive new capabilities, including:
•
Terrain/Obstructions Display, completely user-configurable, with color terrain and obstruction marking, as well as ADS-B collision avoidance
•
Active Alert System with advanced collision avoidance
•
Now a brighter display with full sunlight readability
•
Vertical Flight Planning profile graphic rendition of flight path, terrain en route, airspace, obstacles, aircraft performance and winds aloft.
•
iFly Connect, which I described then as "the most hassle-free software updater I've ever used." That's still true.
•
Direct-To Function on the flight plan page. Instant updating of your flight plan and saved previous waypoints.
•
Flight Timer, which stops recording en route time when forward speed drops below 15 knots.
•
Internet access through built-in WiFi
Page 1 of 3