Tuesday, March 12, 2013
Adventure Pilot iFly 720
A major update on the affordable portable moving map GPS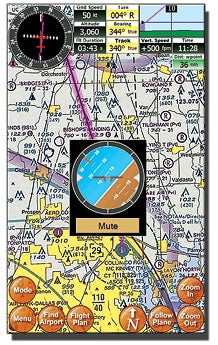 Portrait mode is now supported. Note the artificial horizon center screen, which is part of the new pop-up alert system. If preset parameters are exceeded, such as 30 degrees of pitch up in heavy turbulence, iFly will display over any screen to aid in maintaining safe flight.
The Future Redux
Boyd and Woodson committed from the beginning to an aggressive program of ever-expanding capabilities for the iFly device, and they've stayed true to that vision. Here's the latest cool stuff in Version 7.5, focusing on Shane Woodson's four favorite features:
1.
Portrait Mode Support
With a quick menu selection, the unit boots in portrait mode instead of its native landscape display. iFly Streets remains a landscape-only program.
"Portrait Mode allows the iFly GPS to be vertically-mounted," says Woodson, "which brings many advantages, including improved reference of Approach Plates and more flexibility for mounting into existing panels with either an Air Gizmo dock (battery-powered), or as a semi-permanent install.
2.
World Aeronautical Charts (WAC) for Alaska, Canada, Mexico and the Caribbean bring broader coverage.
3.
Expanded ADS-B and Third-Party Device AHRS Compatibility
Anticipating the imminent completion of ADS-B implementation, iFly now offers support for:
•
Clarity ADS-B Receivers with and without SV (AHRS)
•
NavWorx ADS-B Receivers via Wired Connection
•
LEVIL AHRS and iLEVIL ADS-B/AHRS Devices (iLEVIL is currently in Beta)
•
External serial GPS input
Also new is depiction of on-ground ADS-B aircraft, a Spatial Disorientation Alert System (pilot-configurable when connected to an AHRS Device) which has some compelling features, including audible and visual alerts when pilot-selected parameters are exceeded.
Imagine you find yourself in violent turbulence or incipient instrument conditions. You've previously input 30 or 45 degrees as bank and pitch-up maximums in your iFly. If either of those conditions are exceeded, iFly sounds the alarm and also pops up an artificial horizon (AHRS) display front and center to help you recover from the unsafe flight mode.
Once you've corrected to a safe attitude for at least five seconds, the alerts disappear without further action required by you. That's mighty handy.
Page 2 of 3