Tuesday, May 6, 2014
Adventure Pilot iFly GPS For iPad And Android
Full-featured GPS moving map and an electronic flight bag app for tablets
An "Instrument Group" button allows you to customize the display with simulated instruments, including a horizontal situation indicator that shows how far you're off the desired track, and—if a compatible attitude source is available—an attitude indicator. You can also switch from map mode to a simulated instrument panel that shows GPS-based ground speed, altitude, vertical speed and turn indicator; this could be a life-saving backup for instrument pilots in case of a combined electrical and pitot-static failure.

Version 8.1. which I tested on an iPad 2, expands the feature set and supports Android-based tablets, as well.

The "NRST" button brings up a list of airports near your current position, which is one of several ways to display iFly's built-in Airport/Facilities Directory (A/FD) data. It goes beyond what the FAA publishes in paper A/FDs with a feature called Real View that shows enhanced satellite imagery of the runways.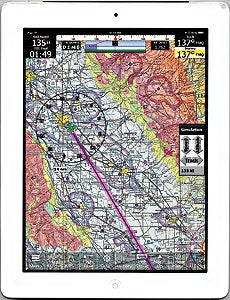 iFly GPS enhances sectional (and other) charts to increase contrast and highlight hazardous terrain.
What's missing? As someone who periodically flies to Mexico, I was disappointed to see that coverage for Baja California isn't included—it's covered by paper WAC charts. Adventure Pilot's website includes downloadable manuals (in PDF format) for their handheld GPS hardware, but not for the app. While I found the iFly GPS generally intuitive, a downloadable reference that can be searched and studied without a live Internet connection can be extremely useful to pilots. A company representative told me that both an updated manual covering the app and online videos showing how features work should be available soon. The app also lacks high-altitude IFR en route charts, which are essential for turbine pilots, and while its flight planning capabilities are impressive, iFly doesn't provide a method to get a full FAA weather briefing or file a flight plan.
That said, my experience with iFly GPS was generally quite positive. I've been impressed by Adventure Pilot's handheld GPS moving-map hardware, and I'm glad to see the same capability made available to iPad and Android tablet users. I hope the people at Adventure Pilot will continue to add features and improve the app.
A 30-day free trial is available when you download iFly GPS (from Apple's iPad App Store or Google Play, respectively for the iPad and Android versions). After that, a data subscription is required—$69.99 per year for VFR only or $109.99 per year for IFR/VFR coverage. Pilots who own more than one device can pay an extra $19.99 per year for a subscription covering up to three. The app is compatible with a wide range of external hardware, including GPS and ADS-B receivers and attitude/heading sources. Browse
www.ifly.adventurepilot.com
for more information.
Page 2 of 2