Thursday, June 19, 2008
Apex Edge Series KSN 770
Bendix/King strikes back with its Integrated Communication Navigation Display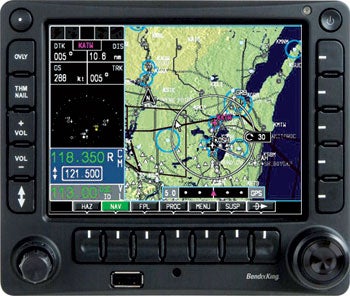 The KSN 770 displays GPS, WAAS and NAV/COM functions on a 5.7-inch display that offers 640x480-pixel resolution on an intuitive interface.
For many years, Bendix/King (a division of Honeywell) had a virtual lock on avionics in general aviation (GA). Get in a 20-year-old airplane with a panel that hasn't been upgraded and you'll probably find at least one Bendix/King NAV/COM, ADF, transponder or audio panel (on many airplanes, you'll find a complete Bendix/King radio stack). Even today, many used airplane ads list "King panel" or "King radios" among their selling points.
With the introduction of Garmin's color GPS/NAV/COM, the GNS 430, all of this began to change. The lure of bright-color displays and the ability to integrate all NAV/COM functions into a single unit proved compelling to most of the GA community. Bendix/King responded with the color KLN 94 GPS, but it lacked Garmin's integrated NAV/COM functions and didn't make much of a market impact. Today, when you look at ads for newer airplanes, "Garmin panel" is a huge selling point.
When I mentioned all this to Clark Badie, Honeywell's product marketing manager for crew interface aftermarket products, he didn't disagree. But he informed me that Honeywell thinks it has a product that will reverse the situation: The Apex Edge Series KSN 770 provides GPS with WAAS and digitally tuned NAV/COM functions on a 5.7-inch diagonal display offering 640x480-pixel resolution (four times higher than the Garmin GNS 430). The unique, intuitive user interface features optional 16-watt transmitter power (10 watts is standard) and is compatible with a variety of weather avoidance and traffic products, offering integrated moving-map and terrain-awareness functions.
Badie is particularly proud of how easy the KSN 770 is to use. "We spent a lot of time making sure we had the interface done right," he said. "It includes graphical flight planning based on the flight management systems from our bizjet products, but it's oriented for single-pilot users. And our product aesthetics are great—it's a modern-style unit that's functional in the cockpit."
One key feature is the KSN 770's cursor control device, with which, according to Badie, "You can point to any waypoint on the flight plan, click on it and click again to select functions like holding patterns. It's also used for scroll and pan, and the cursor shows you where it's focused, be it on the thumbnail or on the main display. It makes operation as intuitive as possible."
Some competing products have been criticized as difficult to learn, based on the excessive use of programmable "soft keys." Honeywell is well aware of that issue. Badie says, "We've tried to strike a balance between what's easy to learn and what's easy to use once you have the system figured out. We're using a combination of hard keys on the left, context-sensitive hybrid keys on the bottom and soft keys on the right for less regularly used functions. You don't need to go through three- and four-deep functions, which is nice." And he confirmed that a software simulator will be available for the product when it's launched this fall.
Page 1 of 2