Wednesday, October 1, 2008
Control Vision Anywhere Map XP & ATC
Portable moving maps with weather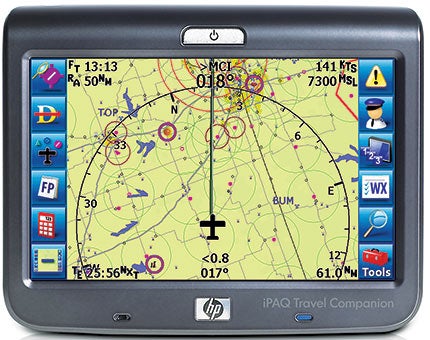 The ATC comes in a compact package with a horizontally oriented screen (above). The higher-end Anywhere Map XP (below) is available on Samsung's Q1 Ultra.
For years now, Control Vision has offered GPS moving-map software on portable devices based on assorted versions of Microsoft Windows. When I first looked at Anywhere Map, it ran on a Pocket PC and required cable connection to an external GPS; the result was a nice (but small) color moving-map display. Today, the company offers several versions of its software on a variety of devices. I recently looked at two: an HP iPAQ 310 preloaded with both aviation and ground navigation software, which Control Vision calls the Anywhere Map Travel Companion (or ATC), and a larger (and more powerful) Samsung Q1 ultramobile PC with a higher-end version of Control Vision's software that runs on Microsoft Windows XP.
Each device has a plug-in USB (Q1) or built-in (ATC) GPS receiver, which eliminates much of the cabling required with earlier Anywhere Map devices. You'll probably still want to run one power cable from the device to a 12-volt outlet (if you have one) to keep the batteries charged (though I was able to operate either device continuously for several hours on internal power).
I was impressed with the ATC. It's a shirt-pocket-sized (4.3x3.4x0.7-inch), 6.6-ounce device with an extremely bright, high-contrast, 4.3-inch, horizontally oriented, LCD screen. Control Vision preloads it with a custom version of its Anywhere Map software for aviation use, but the device also has HP's turn-by-turn navigation software, which I used on a test-drive from my home to my local FBO (I had to type in the street address, but once that was done, the directions worked perfectly). It also has a Bluetooth radio modem that can connect to an XM Satellite Radio receiver for in-flight weather, or with a Bluetooth-compatible cell phone as a hands-free kit.
Using the touch screen to select Anywhere Map brings up Control Vision's moving-map software. View modes include VFR, IFR, TAWS, Approach (an enhanced version of the IFR view with additional detail) and Weather options. Basic waypoint-by-waypoint flight planning is provided. A built-in simulator allows you to set direction, altitude, airspeed and rate of climb/descent for practicing on the ground. Once you have the simulator started, you can jump to any waypoint using the "universal finder," which lets you search for any airport, navaid, fix or user-defined waypoint. I set up several simulated routes with no difficulty. A particularly useful option searches for cheap fuel near your current location, destination or any named airport or fix based on data from
www.100LL.com.
I see two problems with the ATC: The device has only an on/off button, and all access to in-flight functions is through a touch screen (including a pop-up alphabetic keyboard). This works well on the ground, but I suspect it may be difficult in rough air. And the only way to update the device is to hook it up to a PC that's connected to the Internet and runs Control Vision's Anywhere Update Center software. The small screen limits what can be shown on the display. The device I was provided with included a "coming soon" advertisement for Control Vision's Pocket Plates software (which displays FAA instrument approach plates, departure procedures and airport diagrams), but the small display will only show partial charts.
Page 1 of 2