Wednesday, October 1, 2008
Control Vision Anywhere Map XP & ATC
Portable moving maps with weather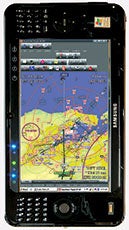 On the other hand, at a suggested retail price of just $745, the ATC offers a lot of capability. I found the display usable even while wearing sunglasses, and in addition to providing solid navigation functions in the air, the device works well on the ground. In comparison with competing devices, the one thing missing is a simulated instrument panel for emergency use.
For more demanding users, Control Vision offers Anywhere Map XP software on a variety of devices, including Samsung's Q1 Ultra. That's a larger (9x4.9x1.2-inch), heavier (1.9-pound) device, but it's a full computer with a 1.33 GHz processor, 1 GB RAM, a 40 GB hard drive and a seven-inch display that will show a complete approach plate with legible (if small) text. It also has built-in wireless Ethernet, which can be used for updates and to download weather through the extra-cost Anywhere Link service that offers features comparable to those available through XM Satellite Radio (including NEXRAD imagery, lightning strikes, cloud tops, METARs/TAFs and TFRs). When I tested this feature while planning a trip in San Francisco, it alerted me to two TFRs of which I hadn't been aware.
The Q1's small keyboard is split between the left and right sides of the display (when held horizontally), but I found that useless when operating the device in vertical mode, which makes more sense for aviation use on a yoke mount. Just like the ATC, Anywhere Map functions on the Q1 are accessed using a touch screen, including a very small pop-up keyboard. That works fine on the ground, but I have some doubts about how well it will work in the air, particularly in turbulence. The Q1 display is good, but not as bright as the ATC's, and it has a polished top that reflects glare in some situations.
The biggest issue for both the ATC and Anywhere Map XP on the Q1 (or other hardware) is documentation. Currently, neither unit comes with a printed manual (though Control Vision says a printed manual with an index will be available for the ATC by the time you read this article—users will be able to download it or have a copy mailed to them). Control Vision provides online manuals in PDF format, which I downloaded and printed, but they were inadequate in both cases. The ATC Operations Manual is just 34 pages and lacks an index. The Anywhere Map XP manual is even shorter at 22 pages, much of which describes how to install the software if you have an existing computer. Users should expect to spend time figuring out how to use the software on the ground before flying with it. Control Vision has a number of helpful videos on its website. Still, there's no substitute for getting comfortable with the unit for a day or two, then trying it out in the airplane
with a safety pilot on board
who can keep you from running into anyone else while you puzzle over how the software works. To be fair, that's equally true of any other moving-map GPS you might bring on your airplane.
The Anywhere Map Travel Companion sells for $745, and a bundle containing Anywhere Map XP and a Samsung Q1 Ultra sells for $1,595. Anywhere Link service (for wirelessly downloading weather and TFRs to Anywhere Map XP on the ground) is $95 per year. In-flight weather requires a $700 XM Satellite Radio receiver and an XM Weather subscription. A Pocket Plates subscription costs $145 per year. The Q1 can also display traffic from a $1,795 Zaon XRX portable collision-avoidance system. Control Vision also sells a variety of yoke mounts, power adapters and other accessories. Visit
www.anywheremap.com
, or call (800) 292-1160.
Page 2 of 2