Tuesday, April 23, 2013
Dual Electronics XGPS170
A new portable passive ADS-B receiver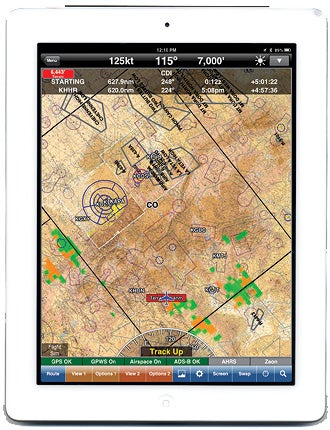 We tested the XGPS170 with WingX Pro version 7 software from Hilton Software. Here, WingX Pro shows FIS-B weather from the XGPS170.
With deployment of ground stations for Automatic Dependent Surveillance-Broadcast (ADS-B), part of the FAA's Next Generation air traffic control system well underway, we've seen a number of portable devices that combine an external GPS receiver with receive-only ADS-B capability for use with iPads and other portable displays.
Dual Electronics XGPS170 is the latest such device—a small (almost pocketsized) unit that offers WAAS-enhanced (Wide Area Augmentation System) GPS and 978 MHz ADS-B functions, including FIS-B (flight information services- broadcast) weather and, in some cases, TIS-B (traffic information services-broadcast) traffic. Having briefly tested this device, I'm impressed by its GPS and FIS-B functions, but can't recommend it—nor any other passive ADS-B receiver—for full traffic awareness.
Physically, the XGPS170 is a 4.3x2.8 x0.9-inch box with a 3.5-inch antenna. It has a built-in battery that's good for about six hours on a charge, according to Dual, and based on flight testing, I think that's conservative. The device is provided with a soft plastic non-slip pad with a pocket to contain the unit that's designed to sit on an airplane's glare shield. In my Skylane, it did a fine job of keeping the XGPS170 in place during normal maneuvers. The soft case and pocket also elevate the unit slightly to allow cooling air to circulate—that's important because the XGPS170 can get quite hot while operating.
The XGPS170 communicates with an iPhone, iPad or Android-based tablet using the Bluetooth short-range radio protocol. I had no trouble getting the system to work with my iPad 2. I tested it with WingX Pro version 7 from Hilton Software. The device is also supported by AOPA FlyQ, Bendix/King myWingMan and Flight Guide iEFB, plus Avilution and Naviator on Android devices. Additional apps, including Anywhere Map, EFB and Mobile Flight Deck will be available soon.
When connected to a supported device running compatible software, the XGPS170 functions as both a WAAS-enhanced external GPS and ADS-B receiver. I found that it worked perfectly as a GPS position source and as a weather receiver—but it didn't detect traffic while flying in an area with active flight training.
Page 1 of 2