Tuesday, October 25, 2011
Field Of Electric Dreams
If you fund it, they will come—and change the world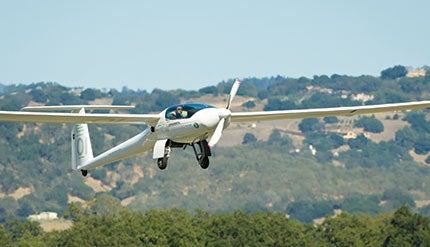 All photos this article courtesy NASA
Orange plastic barrier fences and blue tent tops shiver in the light breeze. Competition team members, pilots, event staff and media move with purpose under the bright, clear September sun. Holding the focus is a clutch of white composite electric, hybrid and gasoline-powered aircraft, lining the taxiway at Sonoma County Airport in Northern California. They've come here to win some big prize money, and make history in the process.
In time, we may well look back on the event as a Wright/Lindberghian moment: as the first time aircraft conclusively demonstrated electric flight has moved beyond prototype demonstrations of future technology. The event is the Green Flight Challenge (GFC), conceived and hosted by the bright folks of the CAFE Foundation and cosponsored by NASA, and no less an icon of global change than Google.
CAFE stands for Comparative Aircraft Flight Efficiency. The group of aviation hobbyists-turned-aeronautical scientists grew its flight-test acumen into a globally respected proving ground for aerodynamic data. In the process, the sky above Santa Rosa, Calif., has become a kind of outdoor wind tunnel.
Electric Bridges Too Far?
In the past, the GFC had tasked itself with stimulating, quantifying and qualifying ever-increasing flight efficiency. This year, its intent was to raise the bar for electric flight—as in asking a high jumper to pull off a 20 footer!
The GFC threw down a prodigious gauntlet: Each aircraft had to fly 200 miles, at an average speed no less than 100 mph, while burning the fuel equivalent of—get this—no more than one gallon of fuel per passenger!
To add stick-and-carrot incentive, NASA and Google tossed in a mighty big carrot indeed: $1.65 million in total prize money. As the Orteig Prize for flight across the Atlantic demonstrated in 1927, if you wave the greenbacks, they will come.
But perhaps evocative of the growing pains of all new movements, after a promising response of 13 original entrants, only five aircraft teams felt equal enough to the task to even show up. One disappointment was the absence of the radical double-box-tail Synergy, a truly futuristic-looking concept electric.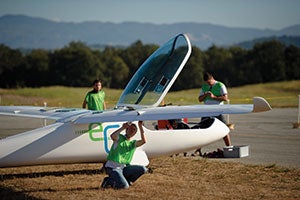 Team members of the e-Genius aircraft prepare their plane prior to the Green Flight Challenge at the Sonoma County Airport in Santa Rosa, Calif., on Monday, Sept. 26.
Before long, four remained: the all-electric eGenius from Stuttgart University and Pipistrel's Taurus Electro G4; the gas/electric hybrid Eco Eagle from Embry-Riddle Aeronautical University; and the production Rotax-powered Phoenix motorglider.
And then there were three: Eco Eagle was disqualified on technicalities, leaving just three aircraft to compete for prize money.
Competition tasks included takeoff noise qualifications (clear 50-foot obstacle in 2,000 feet, sound level no higher than 78 dB), efficiency flight to measure pMPG (passenger miles per gallon) and the "main event": fastest speed through the course while maintaining a 200 pMPG efficiency ceiling.
Energy consumption (1 pMPG = 33.69 kWh of energy) couldn't exceed one gallon per passenger for the 200 miles, and oh yes: a 30-minute "fuel" reserve also was required.
In a strategic move designed to increase its chances of winning, Pipistrel conjoined two of its Taurus G2 production motorgliders with one large wing, added a central power pod for the single electric motor and batteries, and thus gained the benefit of the electrical equivalent of four gallons of gas, because the G4— weighing 3,300 pounds at gross, one-third of which is batteries!—carries four people.
Page 1 of 4