Saturday, March 1, 2008
Flight Guide Online
So much for so little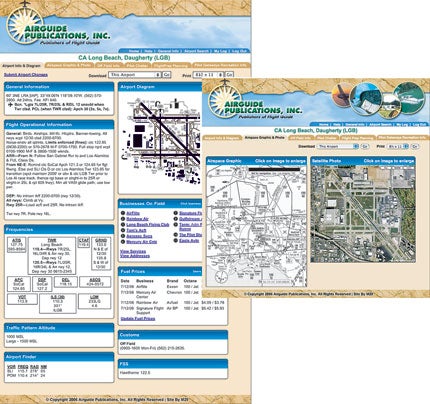 Flight Guide Online
, by Airguide Publications Inc., offers pilots a vast amount of information with their subscriptions. It's also low in cost and physically small (it resides on your laptop, as if it were paper, but it's not paper, it's more convenient and has a lot more features).
"Convenience" is the byword. The Flight Guide manual was born of necessity in the 1960s, when charts didn't carry enough information. Now that we have arguably "too much" information in front of us—appearing on too-small paper—the modern online version is designed to take the info pilots want and present it with a minimum of clutter as quickly and intuitively as possible, so time isn't wasted wading through useless info, deciphering overcrowded plates or just not knowing where to look for stuff.
Flight Guide Online
targets owner-operators, those who perform nonroutine flying and have small (or nonexisting) support staff, and smaller flight departments. The info is presented quickly (with minimum energy devoted to searching for it) and in a useful format.
Before Your Trip
The home page provides immediate access to airport information: See an airport diagram with elevation, pattern altitudes and approach procedures, FSS hours of operation, phone numbers for the field, names of select businesses at the field (and live links to them), noise abatement recommendations, radio stations and nearby VORs, pilot-controlled lighting information, as well as "government" information (such as Customs or AWOS, ATIS, ASOS, Unicom and instrument landing information).
The airport diagrams are clear, not scanned reproductions of government documents. Airguide actually draws them with useful details, such as taxiway designators and FBO locations, and then submits them to airport managers for comments, updates and corrections.
Alternates are also easy to vet and find; storing info for ready reference will prevent a lot of fumbling around in the air or sorting through any unsuitable landing sites that your friendly GPS may serve up. Suppose you want only airports with an ILS or airports with runways of a certain minimum length or width or with a snack shop—you can set your search and qualification parameters to fit your needs.
The manual allows you to know what you're looking for before you go.
Flight Guide Online
also incorporates Google Maps automatically, so you can see recent satellite views of the airport and the surrounding area as it really looks. Double-click to enlarge—it's right in front of you.
Page 1 of 2