Saturday, March 1, 2008
Flight Guide Online
So much for so little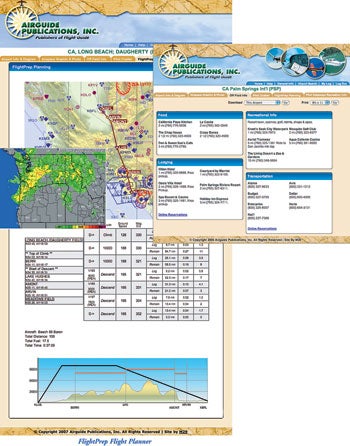 Airguide Publication's online version of its Flight Guide manual offers pilots instant access to flight planning information, including airport data, satellite images and user blogs.
Your Accountant And Your Mechanic Will Like It
You can use
Flight Guide Online
to save your flight logs and expenses, as a double-check against paper logs or to keep track of en route repair records. Save your information in your Flight Guide account. It's painless, and when you plan a similar trip or plan to include any of the same airports, you can use your existing information to compose new flight plans.

Like A Club Membership
Flight Guide Online
allows subscribers to add comments and notes to a common notepad, a "pilots' blog," if you will. Comments about the airport, facilities and nearby support and attractions are allowed into the online comment section for all to read. Users can input info on construction, airport changes, tricky approaches under various conditions and so on. This feature could also be useful to a group that plans to meet—set up the who, what, when and where in a ready-reference spot.
It's (Mostly) Better Than Paper
Like all our favorite official paperwork,
Flight Guide Online
includes runway diagrams for all listed airports, but it also includes taxiways, business locations (the businesses are numbered and correlate to the links where you can find fuel types and prices—with live updates, courtesy of your fellow users), hours, services, whether they're monitoring UNICOM—even the availability of a courtesy car. And, unlike paper editions, which come out every six months,
Flight Guide Online
is updated continuously; NOTAMs are also formally checked daily.
If there's a change, it's available online right away, not like print revisions. Even so, a lot of people like paper, and the Flight Guide's "enhanced service" option allows you to print all pages rather than just the revisions. The online edition lacks margins for scribbling notes, but there's a useful "comment" area, where you can not only make notes, but also find them again.
Paper lovers can choose between printing on standard-sized or kneeboard-sized (5.5x8.5-inch) paper. This way, you can have the comfort of paper that's up to date. It's good for your trip logs, too: just print out your entire trip—route, fuel, even where you tied down (which may become useful, in the event of a mechanical or security problem).
Because
Flight Guide Online
isn't intended to replace the Flight Guide paper manual, and since there are still some advantages to paper, the Flight Guide comes in three versions, keyed to convenience. You can get the changes only, you can get the entire guide or you can get everything except the binder—a duplicate manual, all collated and ready to clip into the binder. (The old one can go to your students or the local school.) For more, contact Airguide Publications Inc. at
www.flightguide.com
or (800) FLY-FLY1.
Page 2 of 2