Tuesday, February 8, 2011
FlightPrep ChartBook-S
Daylight-compatible EFB for VFR and IFR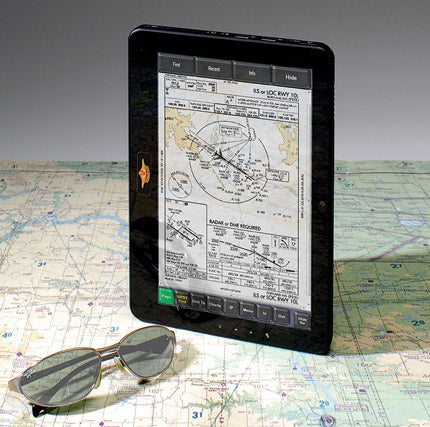 The newest EFB from FlightPrep offers charts and airport diagrams, and a moving map with optional weather and traffic-avoidance functions. The 2.6-pound, 10.1-inch touch screen unit is preloaded with ChartCase Professional software.
While we've yet to see any device that can completely replace paper charts, the latest version of FlightPrep's ChartBook comes very close—at least in daylight. It offers FAA sectional, WAC, TAC, high- and low-altitude en route charts, instrument procedures, airport diagrams plus GPS moving map, flight planning, airport information and optional in-flight weather and traffic-avoidance functions in a 2.6 pound, 10.3x6.6x¾-inch package.
The ChartBook-S hardware is based on a tablet PC running Microsoft Windows 7. It has an Intel Atom 1.66 GHz processor, 2 GB random access memory and either a 64 or 128 GB solid-state hard disk (which works at any altitude and makes the unit shock-resistant). It's powered by a four-cell Li-Ion battery, which can operate the unit for more than four hours on a full charge. An optional DC adaptor lets you run off the aircraft electrical system and save the battery for emergencies.
The unit's 10.1-inch touch-sensitive display is excellent, offering both high brightness and contrast—I had no trouble reading it, even in direct sunlight, though glare can be a problem. A FlightPrep representative told me they plan to offer a protective screen overlay with a matte finish to cut down on glare. FlightPrep supplies the ChartBook-S with a wireless GPS module that can be placed on the glare shield. It has a built-in rechargeable battery that will operate for more than six hours on a charge or, like the computer, can be powered by an optional DC adapter.
The ChartBook-S comes preloaded with FlightPrep's ChartCase Professional software and a flexible license allowing you to install that software on up to two additional computers. It has two operating modes. The preflight mode has a conventional Windows menu bar and offers full flight planning and filing (including a sophisticated plain-language router function that lets you combine automatic routing at selected altitudes on victor airways with specific fixes), and full DUATS weather briefing and filing functions, with both a configurable vector chart and a raster-scanned version of FAA paper charts. I found this mode to be frustrating on the ChartBook-S, due to the small size of menu items and the need to pop up an on-screen keyboard when typing in navigational fixes. An optional wireless keyboard helped, or you could do preflight planning on another computer.
The ChartBook-S touch screen works much better in ChartCase's in-flight mode (selected from a toolbar icon) that does away with the Windows menu bar, instead operating from large on-screen buttons that are easily selected with a fingertip. By default, the in-flight mode splits the display between an editable route list and a GPS moving map, but a press of the "Charts" button switches to a full-screen view of any of the available chart formats (sectional, WAC, TAC, and low- or high-altitude en route) with the aircraft position superimposed over it. Another button press takes you to instrument procedures, which are cleverly selected using an on-screen display (pan to the area around your destination and zoom in to limit the number of airports; the list of procedures will match the airports on the display). Most instrument procedures and airport diagrams are geo-referenced, so you'll actually "see" the airplane flying down an ILS localizer. There's even a "highway in the sky" (HITS) function that provides a display similar to the synthetic vision feature of the latest glass panels, showing terrain ahead of the aircraft and a "tunnel" illustrating the flight plan. Add an optional WxWorx satellite weather receiver and/or a Zaon XRX traffic receiver, and the default moving-map display can show weather and traffic, much like a glass-panel multifunction display.
Page 1 of 2