Tuesday, April 6, 2010
Garmin Aera
Touch screen comes to GPS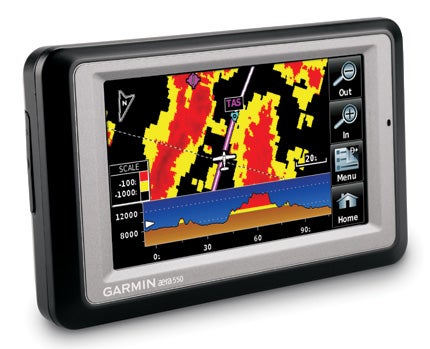 Pilots tend to be a fairly ethnocentric bunch. We think the world revolves around (under) us, and if it doesn't, we all know it should. Perhaps for that very reason, we regard GPS as a dedicated aviation product when, in fact, aeronautical applications make up a tiny percentage of GPS missions. GPS has permeated virtually every type of transportation, from cars, motorcycles, trucks and buses to boats, snowmobiles, bicycles, dune buggies and dog sleds. The system is employed to keep track of pretty much anything you can imagine: pets, valuable possessions and even people.
No big surprise, then, that Garmin International would introduce a new product to cover practically all bases. Better still, the new Garmin Aera series does it all without the plethora of external knobs or switches common to most typical GPS receivers.
First, though, about that name. Lest you regard the Garmin Aera GPS as simply a misspelling of "area," it's actually a Garmin sound-alike nonsense term built around "aero," implying an aviation product. Make no mistake, the Garmin 696 is still the top-of-the-line semi-portable GPS with a top-of-the-line price ($3,595) and ultimate capability.
The Aera is intended as a crossover navigator for planes and automobiles. Price is $2,199 for the top-model 560, graduating down to $875 for the basic 500 system. The differences are related to availability of XM weather, Safe Taxi charts and the AOPA Airport Directory.
The Aera is slightly larger than an iPhone, and it employs a similar touch-screen control that works so seamlessly, a preteen could learn it (probably a lot quicker than most adults). The Aera relies heavily on technology used in its previously introduced Nuvi, and it isn't the first Garmin product that can be applied to automotive and aviation applications. It is, however, probably the product that's most readily adaptable to both tasks, demanding little more than the touch of a screen icon.
Garmin likes to say the Aera is a door-to-door system rather than merely a runway-to-runway unit. In other words, you could use it in automotive mode to find the airport (in the unlikely event that you don't remember where you parked the airplane), switch to aviation mode for your flight, then switch back to auto mode to find the nearest Pizza Hut at your destination.
Right up front, it's important to acknowledge that, no matter what the Aera's talents, some folks probably will still prefer the 496's external controls. Unlike most touch-screen systems that seem to require differing amounts of pressure in different areas of the screen on different days, the pressure sensitivity on the Aera is a fixed value. This is because the Aera doesn't use the sometimes overly sensitive technology employed on the iPhone, a system that sometimes calls up functions you didn't ask for. (Fortunately, the iPhone rarely is used in turbulence.) Instead, the Aera uses a resistance system that employs spacers to insulate the controls and avoid answering your requests until you press harder and convince the system you really mean it.
Page 1 of 3