Tuesday, April 6, 2010
Garmin Aera
Touch screen comes to GPS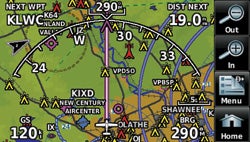 Garmin has become famous for producing the most talented and telegraphic portable and integrated GPS devices on the market, everything from the all-glass, flat-panel G1000 and G600 to the company's line of clever mini-GPS units. Specifically, the latter are the XX6 series: the 196, 296, 396, 496 and 696. (What about the 596?) The 396 and 496 were game changers for Garmin, the products that many pilots regarded as the peak of the skill-set pyramid. The duo-chrome 196 and color 296 introduced the form factor that would serve through the 496, but the 396 probably was the biggest win. It was one of those products pilots regarded as an ultimate "gee-what's-left-to-be-done" GPS navigator.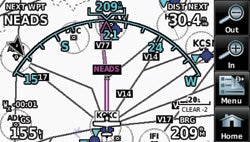 My now-out-of-production 396 accompanies me all over the world as a backup on ferry flights. I wind up using the 396 as a convenient sidekick to the panel-mount 430s and 530s installed in most ferry airplanes. I usually position it on its beanbag platform on top of the panel and couple it to ship's power. It's so convenient to pull off the panel and use in my lap that I'll often input the full 2,000 nm flight plan and leave the panel-mount box set on the destination waypoint. This way, I have an instant reference for time and distance to next waypoint and destination without sacrificing other information.
On the Santa Barbara to Honolulu Pacific leg, for example, I could be halfway across, between Dopps and Dialo intersections, and know that I'm 102 miles (30 minutes) out of Dialo but still 1,207 nm (5 hours and 54 minutes) from Honolulu. I also have an AA-powered 196 tucked into my flight bag, just in case.
In fact, you might call me something of a Garmin junkie. There's a miniature 96C attached to the handlebars of my BMW motorcycle, and I've mounted a 496 on the left yoke of my Mooney. In at least some respects, the new Aera does all of them one better.
In truth, the Aera doesn't bring any major new features to the table. The Aera's mere form factor is the big news. Its primary attraction is simply its bright screen and telegraphic touch controls.
All functions are organized into chapters. "Home" devolves to the usual navigation functions—direct to, terrain, waypoint information, map, numbers, position and the like. "Nearest" calls up your choice of airports, VORs, NDBs, intersections, user waypoints, FSSs, ARTCCs and other nearby features. In XM WX mode, you can choose from METARs, AIRMETs, SIGMETs, echo tops, storm cells, winds aloft, lightning, pireps, freezing level, forecasts and even sea temperatures. Under "Tools," you'll find flight logs, track logs, E6B, GPS status and probably some other things I forgot. Oh, yes, there's weight-and-balance capability added to the tools chapter.
Page 2 of 3