Tuesday, February 25, 2014
Garmin D2 Pilot Watch
A watch with a cockpit full of aviation features
Who would've dreamed even 10 years ago that you could wear a full-featured WAAS GPS navigator on your wrist? Garmin has done just that and a whole lot more with the innovative D2 pilot watch, designed exclusively for aviators. Garmin has been enjoying great success in the sports industry with their Forerunner line of watches, designed to allow runners to track their time, pace, distance and other critical parameters. The company has refined what they've learned there to the aviation market, and created something truly unique.
Far more than an aviation-quality GPS unit, the D2 redefines what a watch can do. It includes Garmin's signature "direct to" and "nearest" navigation functions, as well as a built-in altimeter with adjustable barometer setting (just like your panel-mounted unit), altitude alerting capabilities, display of both local and Zulu/UTC time, accurate compass, HSI, the ability to seamlessly integrate with the Garmin Pilot app, the new Garmin VIRB POV camera and more. Oh, and it's a watch, too.
Perhaps the D2's greatest strength is the onboard navigation database that's as accurate as those on Garmin's high-end navigator units. Another big plus is the D2's ability to integrate with the Garmin Pilot app. Pilots can create a multi-waypoint flight plan in the app on their tablet or computer, then wirelessly send it to the D2 watch and fly the plan entirely from the watch. Though it's a WAAS GPS unit, the D2 isn't yet certified for IFR. Still, the ability to have a full-featured navigator on your watch is something any pilot would welcome.
"In addition to the ability to provide global navigation solutions right on your wrist, D2's seamless integration with other Garmin products makes it an essential piece of equipment for every cockpit," said Carl Wolf, Garmin's vice president of aviation sales and marketing. "D2 is as rich in style as it is in features, and with the wealth of information it provides, every pilot will want one."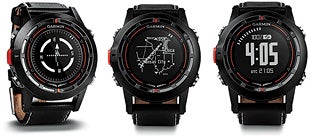 Features include a compass, moving map, and "direct to" and "nearest" buttons.
When unboxing the D2, the first feature that stands out is the watch's size. It's certainly compact for a navigator, but it's a bit bulky for a watch. Therein lies the paradox of the unit. In terms of practicality, pilots need to think of the D2 not as a watch, but as a GPS navigator attached to your wrist. While it's a more-than-capable watch, the time feature seems to be simply a marketing point. Think of it as sort of a Garmin 296 shrunk down so it will fit your wrist. Runners, hikers and athletes around the world have embraced the larger-than-a-watch Garmin wrist units, so I imagine pilots will, too. At ¾-inch thick and two inches in diameter though, it's not something you'd throw on with a suit to go out to a nice dinner. Then again, the D2 wasn't designed for that.
For pilots, the D2 fits two critical needs: first, as an emergency navigator unit, and second, as a GPS for tight cockpit environments.
Page 1 of 2