Tuesday, February 25, 2014
Garmin D2 Pilot Watch
A watch with a cockpit full of aviation features
As an emergency unit, the D2 is unbeatable by anything on the market today. The watch is rechargeable, and Garmin says it will run about 50 hours on a full charge, depending on what functions are being used. In practice, using the GPS function and the backlight function (which I used almost full time), I experienced about 30 hours before it needed to be charged. The D2 comes with a proprietary charger, which means you have to bring it along for long flights or multiple-day excursions. Still, you can't beat having a full-fledged navigation unit at the ready in case your panel-mount or other main unit becomes inoperative.
The D2 is tailor-made for cramped cockpits. I put this feature to the test in my Great Lakes 2T-1A2 biplane. That cockpit was designed in 1929, when people were much smaller. There's barely enough room for a portable GPS, and you can forget about an iPad. The D2 became a handy little device in that environment. I was particularly pleased with the "direct to" and "nearest" functions. By pressing either of two decent-sized buttons on the right side of the watch, I could call up either function, select my airport, press a button and see the moving map display on the watch's face. Then, like any GPS, you just follow the line. It was nice knowing Garmin's accuracy was behind the display. Comparing it to the 296 we've mounted on our panel, the accuracy was identical. I could use the D2 as my sole GPS, if necessary.
Pilots can assign customized data fields to display GPS ground speed, GPS track, distance, estimated time en route, bearing, glide ratio and other parameters. The altimeter is a nice backup, and a button allows users to set the current barometric pressure so the altimeter is accurate during the flight. It should be noted that, in a pressurized aircraft, you should switch pressure measurements to GPS for altitude data. Garmin has given the D2 watch vibrating alerts that can be set up to remind users of tasks like switching fuel tanks, altitude alerts and other events necessary during flight. The HSI is a very nice feature and would be handy—again—in an emergency.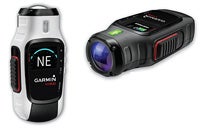 Garmin's VIRB POV camera can be remotely controlled by the D2 watch.
One feature that gets forgotten easily is the D2's ability to remote-control other Garmin units like the new VIRB point-of-view camera. The VIRB is designed to compete head-to-head with the GoPro, and its image quality is superb. The VIRB seems to take up where the GoPro left off, featuring a crisp, onboard LED screen; an enormous, easy-to-see-and-set "record" button and a different mounting mechanism that locks the camera in tiny increments using a ratchet-type grabbing technique. In all, it's a great camera, and the D2 is a perfect companion, allowing complete control of the VIRB's features.
The Garmin D2 seems to be a first step in an exciting direction. This first iteration is innovative and interesting, and will surely find an audience among gadget-head pilots and those wanting a bonafide backup GPS. I found the display to be too dim, even with the backlight, but I imagine Garmin will listen to user feedback and address that. I think they should offer a caddy/mount of some type, so the watch can be placed on the panel if needed, since navigating from your wrist isn't quite intuitive. But these are small gripes for a device that puts aviation navigation squarely in the realm of what once was only science fiction.
Page 2 of 2