Sunday, January 1, 2006
Garmin GPSMAP 396
The wunderbox that brings satellite uplink weather and radio capabilities to the cockpit

Fourteen years ago, when I met Tim Casey of Garmin International, we were at the Paris Air Show, and Carl Pascarell and I had just ferried the prototype Sino Swearingen SJ30 jet across the Atlantic to Le Bourget Airport with little more than point-and-shoot VHF radios. Like most prototypes, the first SJ30 was having its share of systems problems, and electrical glitches had burned up both of our VLF/Omegas on the eastbound crossing. By definition, we were flying IFR above 35,000 feet and needed a method of positively identifying our position for the trip back to San Antonio, Texas. " />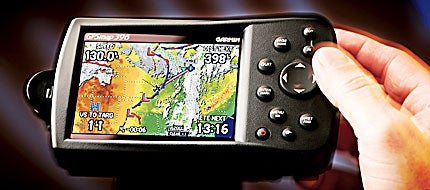 Fourteen years ago, when I met Tim Casey of Garmin International, we were at the Paris Air Show, and Carl Pascarell and I had just ferried the prototype Sino Swearingen SJ30 jet across the Atlantic to Le Bourget Airport with little more than point-and-shoot VHF radios. Like most prototypes, the first SJ30 was having its share of systems problems, and electrical glitches had burned up both of our VLF/Omegas on the eastbound crossing. By definition, we were flying IFR above 35,000 feet and needed a method of positively identifying our position for the trip back to San Antonio, Texas.
In those days, Garmin was a new upstart company, mostly comprised of defectors from Honeywell Bendix/King, and no one could guess they would eventually become the world's largest GPS producer. Casey volunteered a then-new Garmin GPSMAP 100, so new, in fact, that it was an engineering demonstrator with a few teething problems. It had a relatively short battery life, somewhere between 15 and 30 minutes. The unit worked perfectly, but not for very long before needing a recharge.
Accordingly, I used the Quick Fix mode to plot single positions on our return flight, marking them on a chart and regulating the heading accordingly. Repetitive position is, after all, the most important function of any GPS, and even the first prototype GPS 100 did that very well. Pascarell and I brought the then-$40-million business jet back across the Atlantic, using an $1,100 portable GPS.
Now, suddenly, it's 14 years later, and Garmin's technology has leaped so far beyond that first GPS, it's as if there have been 140 years of evolution. Interestingly, despite dramatic improvements in the state of the art, the price for a basic GPS has declined. You can now buy an excellent moving-map product for the same as or less than what you paid for a GPSMAP 100.
The company's latest portable aviation product is the handheld model GPSMAP 396, an XM WX-enabled, direct follow-on to the color GPSMAP 296 from 2004 and the monochrome GPSMAP 196 from 2002. Just as the GPSMAP 296 brought terrain awareness to portable GPS, so the GPSMAP 396 introduces satellite uplink weather. The new unit retails for $2,695, including mounts, antennas and virtually everything else you could ask for.
XM Radio charges increase the ante. Satellites aren't cheap. These include a one-time setup fee of $75, then $29 per month for the basic service, or $49 for the full package. If you want XM Radio, expect to pay an additional $6 to $12, depending on the package you decide to get. In other words, opt for the full package, and you'll pay $75 up front, plus about $750 per year in subscription charges. The full service provides a major list of services, plus it's portable. More on that later.
Casey recently loaned me the GPSMAP 396 in conjunction with a summer trip from Indiana to Alaska and back with Dr. Bill Grider of Kokomo, Ind. The GPSMAP 396's XM WX uplink weather employs a pair of satellites (appropriately named Rock and Roll; remember, this is a product of XM Radio) in geosynchronous orbit above opposite coasts in North America, providing 24-hour coverage throughout the U.S. XM WX laps over into Mexico and Canada, and on our flight north, we ran out of coverage just north of Dawson Creek, British Columbia. Still, there's 2,000 nm between Indiana and the Yukon, so the XM WX feature gave us welcome warnings of weather and winds ahead.
XM WX may be the best thing that has happened to instrument flying since the HSI. Garmin's Matt Burch went out of his way to keep the system as intuitive as possible, and the result is a GPS product that a 14-year-old could probably figure out without a manual. (In fact, a typically computer-savvy 14-year-old might play a GPSMAP 396 better than most adults.)
Page 1 of 3