Tuesday, February 24, 2009
Honeywell Bendix/King AV8OR
GPS and weather in your hands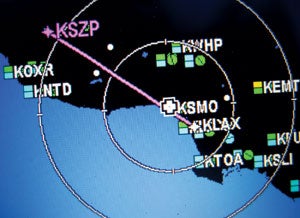 You can also take the AV8OR driving. Some helpful features include different calculation methods for fastest, simplest, shortest and most economical routes; fly-over simulations of a route; SmartZoom, which zooms the display in when approaching a turn; multipoint routes; day and night display modes; 2-D and 3-D graphical representations of routes; and the ability to store and activate a list of favorite routes. Locations can be set by typing in an address, using a city center or using the current cursor point that you have selected by tapping on the touch screen. The AV8OR's warning system will tell you when you're exceeding the speed limit, a feature that comes in handy when driving through heavily patrolled residential neighborhoods. It also can alert you to locations with speed-enforcement cameras.
Entertainment features include photo, music and video capabilities. The resolution of the AV8OR screen makes photos and videos jump out at you, and the audio sounds excellent through headphones. All of the multimedia files are stored in a removable SD memory card, and a variety of data formats are supported: MP3 and Windows Media files for audio; Windows Media, AVI, MPG and ASF files for video.
The new AV8OR is a first-generation product, so it isn't surprising that I'd like to see some enhancements over the next few releases. As it is now, changing a configuration option requires the user to leave the driving or flying mode. It would be great if all access to system setup was available at all times.
For flying, I'd like to be able to cycle through the graphical weather products like the moving map does, and to have a solution for the weather receiver that decreases the amount of wires and eliminates the need for a cigarette-lighter splitter box. When I'm looking at settings in the flying mode, I'd like to have a cancel and exit option—currently the only way to exit this mode is to save and exit, and I find myself worrying that I might have made an accidental configuration change.
For driving, the excellent speeding-warning system would be more valuable to me if I could configure it to give warnings relative to the speed limit; I might want it to tell me when I'm 5 mph over in the city and 9 mph over the limit on the highway.
All in all, the AV8OR is a great offering and would be an asset to any aviator, both in the air and on the ground. The AV8OR is done well, as you'd expect with any product from Bendix/King: It sets the bar for features and affordability. The standard warranty is two years from date of purchase. For more information, visit
www.bendixking.com/AV8OR
.
Page 2 of 2