Tuesday, April 24, 2012
More Sun, More Fun!
Our roundup of the cool, exciting and notable from Sun 'n Fun 2012
Adventure iFly 720 GPS
www.iflygps.com
One of the most revolutionary, popular and affordable portable avionics boxes out there is the iFly 700, a seven-inch, touch screen , moving map GPS that was the first to feature FAA sectional charts as a backdrop for route planning amidst tons of features. Now comes a significant upgrade: the new iFly 720 with yet another long list of powerful capabilities. Highlights include a dramatically improved, brighter, sunlight-readable screen that also displays details more crisply; iFly Streets for road navigation; dual-core processor and memory; Wi-Fi updating for fast and easy automatic data downloads (the iFly 700 uses USB); visual and audio warnings of nearby SUAs, TRFs and more—much more. We haven't even touched on the IFR Low Enroute charts, live weather, georeference plates and airport diagrams. Future software updates will include flight instruments, terrain depiction with vocal and sound proximity warnings for high terrain, and there's even a remote control for precise control in strong turbulence. The package includes pre-loaded SD card, 12V-28V DC adapters (cigarette style), 110V power adapter (optional battery packs required for aircraft without power plug), suction mount and two months of VFR/IFR updates. Price: $749.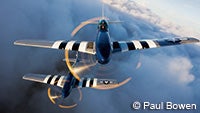 Twenty-Five Years of Crazy Horse
www.stallion51.com
Stallion 51 kicked off its year-long Silver Jubilee at Sun 'n Fun to celebrate 25 years of bringing the P-51 Mustang experience to the civilian world. President and Chief Pilot Lee Lauderback provides not just passive Mustang rides but instruction for those willing (and financially able!) to learn to fly the truly legendary WWII American fighter plane and other warbirds. The company Lauderback heads offers several services in historic aircraft, including the dual-control Mustang, Czech L-39 Albatros jet and the iconic North American T-6 Texan trainer. Checkouts and re-currency training, FAA Medical certification, aircraft sales and management of warbird aircraft are offered. During Sun 'n Fun, Lauderback flew his signature solo Mustang routine to kick off the night air show for Stallion 51 Day. He likens the company's operations to a classic fighter operation, with flight ops, a crew chief, briefing rooms and even a flight surgeon "There are fighter pilots out there today," he says, "who would give anything for my job!" Missions conducted from the Stallion 51's three big hangars at Kissimmee Gateway Airport include orientation flights, transition training, VFR unusual attitude training (UAT) and orientation.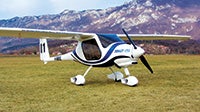 Pipistrel 912 iS
www.flightevolution.com
,
www.pipistrel.si
Perhaps the biggest for LSA fans was the showcasing of the new Rotax 912 iS fuel-injected engine. Pipistrel already has its Virus SW flying the new engine in Europe. Flight Design is about to release its CTLSi. Tecnam's Phil Solomon announced he'll be offering the engine in all Tecnam's many models. Other airframe producers will likely follow suit, and for good reason: The 912 iS engine is a dramatic evolution that brings a noteworthy (21%) reduction in fuel burn, constant power at higher altitudes, multiple system redundancy and even smoother operation. The Rockwell Collins-designed ECU (Electronic Control Unit) adjusts fuel-air mixture to the optimum for each cylinder at every altitude and throttle setting. There are two injectors per cylinder, which increases fuel-spray dispersal uniformity and thus increases burn efficiency. The Virus SW with the new engine cruises at 147 knots and burns 3.95 gph! Those are real numbers, not estimates. Price: To be announced.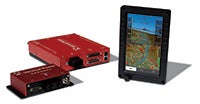 Vertical Power Backup EFIS
www.verticalpower.com
Here's a gadget any LSA pilot can get behind: the VP-400 system from Vertical Power. The avionics unit searches for the best runway in emergencies such as engine-out, EFIS failure, inadvertent flight into IMC or pilot incapacitation—and takes control to fly you there, automatically! In a threatening event, anyone aboard can push the red button on the panel and the VP-400's Runway Seeker technology calculates the best glide path to every runway within gliding range, then flies the airplane toward the threshold. Once there, the pilot disengages the system to manually land the disabled plane. If the pilot is incapacitated, the system attempts a survivable landing. Now there's an idea we can live with. Even if you're right over the airport, the VP-400 will circle the aircraft down at its best performance until it's time to fly the pattern. Intended as a backup unit for onboard EFIS systems, the VP-400's own solid-state gyros are independent of other instruments on board. There's an integrated WAAS GPS receiver too for accurate navigation. The unit includes the seven-inch high-res touch screen, built-in backup battery, GADAHRS and an ECB (electronic circuit breaker system). Price: $8,000 (VP-400 Duo, $11,000). Nav data subscription: $49/year.
Page 3 of 3
Labels:
Aviation News
,
Buyer's Guide
,
Features
,
New Products
,
Pilot Resources
,
Pilot Supplies
,
Pilot Gear
,
Gear
,
Air Shows
,
What's New
,
Aircraft
,
Gadgets