Tuesday, August 23, 2011
Rugged Radios RA950
This street-tough ANR headset can take anything you throw at it and save you money in the process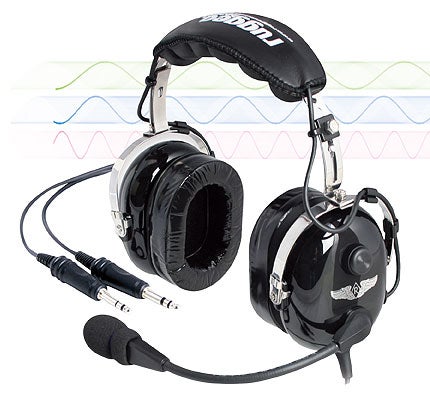 The RA950 combines the benefits of ANR with durability and an affordable price.
One market segment generally ignored in aviation-headset makers is the rough-and-tumble world of flight schools and industrial operations. There are plenty of high-end active noise reduction (ANR) headsets around for the more genteel pilot, cruising in air-conditioned comfort at 20,000 feet, but fewer choices exist that will stand up to the abuse of university flight-training programs, accelerated ab initio academies, busy local FBOs and harsh industrial environments. Most operations on a budget would be hard-pressed to shell out some $1,000 each for a delicate-but-high-performing "name" headset. Rugged Radios has clearly targeted this market and introduced its "hardened" version of a professional-class ANR headset.
The first thing you notice when you pull the Rugged Radios RA950 ANR headset out of the padded bag is how rugged it really is. Built a bit like a Jeep®, this headset is no dainty, fragile contender. From the plated, spring-steel headband to the sturdy ear cups and ratcheting full-flex microphone boom, this headset is made for tough environments. The feel and heft of it is substantial, though it's no plodding boat anchor. The unit just feels like it's going to last through anything.
The build quality and durability of the RA950 is evident in simple things like the cord itself, which feels thick and unyielding to pulls and constant coiling. It terminates in a sturdy, nine-volt battery pack with an industrial-quality belt clip to keep it out of the way (a nice touch). The stereo-mono switch gives a satisfying "clack" when moved, and would be easy to find in dark cockpits or bouncing around in rough air.
The two jacks exit the battery box in a molded, heavy rubber bushing that keeps the two cords together and intact. The jacks themselves could be run over by a car and wouldn't suffer much damage.
I should mention a word about Rugged Radios as a company. They have 20 years' worth of experience building communications equipment for high-noise, harsh environments, including off-road racing, fire and law enforcement, motorcycles and heavy industry.
Located in San Luis Obispo, Calif., the folks at Rugged Radios manufacture not only headsets, but also complete intercom systems, helmet kits, professional racing communication systems and all the components and cables that go with them. They have an entire line of aviation headsets, with the RA950 as their flagship ANR set.
With the RA950, durability and strength don't translate to excessive weight. The RA950 weighs in at 19 ounces, so it's no featherweight, but it doesn't feel like a helmet on your head either. It feels about right for a headset meant for tough flying environments.
Page 1 of 2