Tuesday, June 7, 2011
SkyVision Xtreme
ADS-B, here and now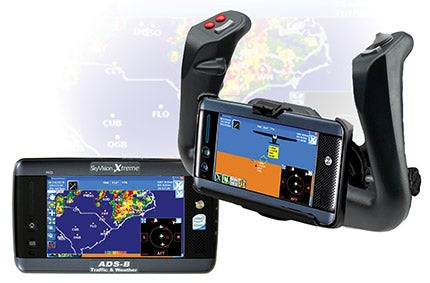 The portable touch-screen display supports both 1090 ES and 978 MHz modes for ADS-B.
We've been promised and warned it's coming. Now, ADS-B (Automatic Dependent Surveillance-Broadcast), cornerstone of NextGen navigation, is here. You're not legally mandated to have this equipment aboard until January 1, 2020, but that hasn't stopped SkyVision (
www.skyvisionxtreme.com
) from bundling its Xtreme Vision portable touch-screen display into what the company calls the first ADS-B in-and-out product that supports both 1090 ES and 978 MHz modes. (The standard for ICAO, and for aircraft flying in the flight levels in the U.S., is 1090 ES; 978 MHz is the FAA standard for U.S. airspace up to 18,000 feet, which supports weather and traffic-information broadcast-in services.) But if a certified ADS-B system won't be required for 10 years, why install one now?
"Because we can take advantage of the ADS-B 'in' features, like traffic [advisories] right now," says Victor Steel, co-founder with Harry Sanders of Asheboro, N.C.,-based SkyVision. "There's no penalty to equip now and be ready for 2020."
Another bonus is that the 978 MHz mode delivers free NexRad weather, as the pair showed while demonstrating the system to Plane & Pilot in Steel's C-182 during Sun 'n Fun.
The system has its genesis in Sanders' experience with a passive traffic-alert device he tried out in his Seneca a few years ago. "I was getting so many false alerts and so many inaccuracies in the position reports that my wife said, 'I'm not flying with you if you fly with that anymore,'" Sanders said.
An electrical engineer with a background in manufacturing and product development, Sanders began designing a better solution in 2008. He and Steel, also an electrical engineer, met through their wives. In 2009, they debuted and sold their first portable cockpit display at Sun 'n Fun, and have since refined their unit with a better processor, larger display and improved software, while adding features like audio traffic alerts.
The bundled ADS-B system has two primary components: SkyVision's proprietary software, driving the Xtreme Vision touch screen; and a non-certified NavWorks AD-600B UAT transceiver, from which the software gets the data for its traffic and weather displays. Traffic using the 1090ES standard is rebroadcast to 978 UAT systems, including SkyVision by ADS/B ground stations.
The UAT unit in Steel's Skylane rests on the floor just forward of the rear bulkhead. The system's hardwired plumb-ing consists of a belly-mounted UAT antenna the size and shape of a transponder blade, two coaxial cables—one connected to the UAT antenna, the other to the GPS antenna that drives the panel-mounted Garmin 430—and a power cable. The power drives the UAT, the GPS provides positioning data, and the UAT antenna communicates with the ground-based transceivers.
A Bluetooth dongle connected to a serial port on the transceiver sends its signals to the portable display in the cockpit. A hardwired serial cable also can feed the display in lieu of the Bluetooth. And though the UAT is uncertified, Steel says NavWorks will provide buyers with kits to upgrade their UATs to certified units for permanent installation once available, at no charge.
Steel mounts his Xtreme Vision display unit on the airplane's left yoke, but for the demo, he put it on a Ram ball mount affixed to the right side of the windshield, so I could see it clearly from the right seat. Driven by a Windows.net operating system, an on-off bottom on the top side of the display engages the unit.
Page 1 of 2