Tuesday, January 26, 2010
Spot Satellite GPS Messenger
The next-generation tracker arrives
The new Spot also has many technical improvements, such as better "bread crumbs" when in tracking mode. It now always sends coordinates for the last three locations when communicating with the Globalstar satellites, which will fill in almost all of the gaps for anyone following along on the Internet. It also has a superior GPS antenna to provide excellent accuracy for location information. Lights for GPS and "Message Sent" give information about signal reliability and system activity. Additionally, the new Spot will wait until it acquires a GPS signal before sending out a tracking or an OK message. Lights on the unit also will flash to tell you that the batteries are getting low and may need to be replaced.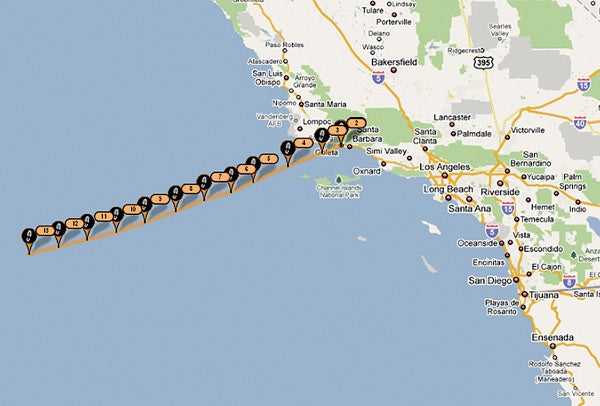 Spot tracks Senior Editor Bill Cox in real time as he commences his 7,800 nm journey over the Pacific Ocean from Southern California to Seoul, Korea.
One improvement I'd like to see is a display of my GPS position, in case I need to walk out of the woods after an off-field landing, for example. I'd also like to use the mobile browser on my cell phone to track friends. (Note: Spot and third-party application partners currently have a mobile website under development, as well as apps for the BlackBerry and iPhone that should be rolled out by the time you read this.)
A website developed by Spot,
www.spotadventures.com
, allows users to blog about their travels; it also links geo-tagged photos with locations from their route. Each Spot adventure can be saved and logged in an online adventure diary, and friends can add their comments. Spot Adventures also integrates with social networking websites such as Facebook, Twitter, Flickr and Digg. This air show season, I'll create an adventure for each of the shows in which I fly.
A Spot and spare lithium AAA batteries should be an essential part of every pilot's survival gear. The unit is priced at $150 and the basic service is $99 per year. Add tracking progress service for $49 per year and GEOS emergency-assistance insurance for $7 per year. My Spot subscriptions add up to a little under $3 weekly, and I consider it to be one of the best bargains in aviation. Visit
www.findmespot.com
.
Page 2 of 2
Labels:
Avionics
,
Buyer's Guide
,
Cockpit Gadgets
,
Columns
,
Navigation
,
New Products
,
Pilot Supplies
,
Safety
,
Handheld Gadgets
,
Best Buys
,
Gear
,
Pilot Talk