Tuesday, December 1, 2009
AV8OR Ace
With its touch-screen interface and loads of new features, the AV8OR Ace is a winner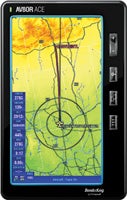 Terrain shading provides pilots with a topographic map to enhance situational awareness
Again like an iPhone, AV8OR Ace allows users to slide a finger on the map to pan it in any direction. "Soft keys" pop up on the screen depending on what the user does. For example, tapping on an airport or VOR will bring up an information key that further displays detailed information about that airport or navaid. Airspace boundaries can be tapped for a closer look, and a multitude of display boxes can be turned on or off. I prefer a clean display so I selected bearing, track, ETE, MEA and groundspeed, but there are many more to choose from. Another cool feature is that flight-path data can be uploaded from the unit and viewed in programs like Google Earth.
One feature I used heavily is the checklist. You can create custom airplane/task checklists in .txt format (I used "notepad" on my PC), and upload them to the unit with the included USB cable. By prefacing each checklist item with double brackets, the AV8OR Ace pops up soft keys that allow you to check or skip that item. Bendix/King needs to work on this feature since it won't allow colors, bold, underline or other features present in modern word-processor software. It's fantastic to have all your checklists in the unit, but the feature needs some enhancement to make it truly useful.
The AV8OR Ace introduces some advanced goodies in this MFD. Real-time XM weather can be overlaid on the map. The unit interfaces with XM via a portable receiver from WxWorx or the KDR 610 weather receiver (both purchased separately) through Bluetooth or RS-232 connections. Currently, the AV8OR Ace displays aviation NEXRAD, graphical and text METARs, TAFs, AIRMETs and SIGMETs, as well as storm-cell tracks, cloud tops, lightning, TFRs and winds aloft. The available weather products depend on your XM subscription. Another useful new feature: When the AV8OR Ace is connected to the Zaon XRX portable collision avoidance system (PCAS), it displays traffic information.
If, like me, you need your GPS unit to do double-duty on the road as well as in the air, then you won't be disappointed by the AV8OR Ace's abilities. The traffic features alone are worthy of another review, with the same easy-touch interface and long list of features, including 10 million preloaded points of interest and 2-D and 3-D road maps. To see how easy the Ace was to use on the road, I handed it to my 12-year-old son, gave him an address 70 miles away and said, "Get us there with this." In minutes, he had it working, and during the rest of the hour-long trip, he learned all its features. His comment: "Dad, this thing is amazing."
Overall, the AV8OR Ace is a unit that's incredibly easy to use—a trait that shouldn't be trivialized. Bendix/King has done such a good job marketing the simple interface that some pilots mistakenly see it as a novelty. The truth is that the AV8OR Ace is an impressively sophisticated MFD/EFB/portable navigator with advanced features and a serious value at its suggested retail of $1,999. It shined in both windy, open cockpits and more genteel environments. Ultimately, the Ace's added situational awareness—from taxi to approach—is something every pilot could use. Visit
www.bendixking.com/av8or/ace
.
Page 2 of 2
Labels:
Avionics
,
Buyer's Guide
,
Cockpit Gadgets
,
Columns
,
Navigation
,
New Products
,
Pilot Supplies
,
Safety
,
Pilot Gear
,
Handheld Gadgets
,
Best Buys
,
Gear
,
Pilot Talk