Saturday, November 1, 2008
Tech Talk: Spot Satellite Personal Tracker
It could save your life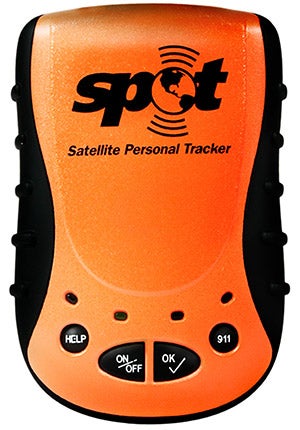 The Spot device lets users send OK, Help and emergency messages.
My first exposure to the Spot Satellite Messenger came on a rainy March afternoon when air show pilot Gene Soucy arrived at the NAS Meridian Air Show in Meridian, Miss., where we were both performing. Gene got out of his Showcat biplane, shook my hand and said, "hello," then pulled a little orange device out of his pocket and hit a button. He explained that he had just checked in with his coperformer, Theresa Stokes, by sending her a message that he had arrived safely. I asked the obvious question, and he said, "It's a Spot, man, you need to get a Spot."
The previous afternoon, I had barely made it from California after racing a line of thunderstorms that were developing across the South. It was one of those VFR-only trips across an area in Texas that, 15 minutes earlier, Flight Watch had said was 1,500- to 2,500-foot overcast with no weather between Dallas, Texas, and Shreveport, La. Then, all of a sudden, I passed over a little hill, and the ceiling had dropped to about 500 feet with poor visibility that was decreasing rapidly because of rain that began to fall. I hit the nearest button on my GPS and hustled my way to Mother Earth at an airport that was only eight miles away. It all worked out, and after a nice lunch with the local airport crew, the rain stopped, the ceilings lifted, and I was on my way again. I wasn't very happy, however, to have reminded myself about how much I hate being scared in an airplane.
Recalling my trip across the stormy South the day before, I had to wholeheartedly agree with Gene—I really needed a Spot. After all, my Edge 540 is purpose-built for aerobatics, so it has about as much instrumentation as the Spirit of St. Louis did. And because it's a single-seat airplane in the experimental-exhibition category, it doesn't even have an ELT. When I'm traveling, I'm always thinking about how easily things can go wrong.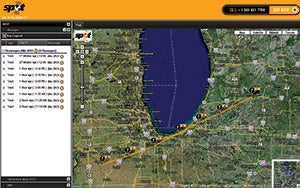 Spot's website displays Bill's flight path on a cross-country from Battle Creek, Mich., on a Google Earth map viewed in Hybrid mode which combines map and satellite images.
Spot is an ingenious electronic device that's essentially a combination GPS (for gathering location information) and satellite phone (for sending information to the Spot system). Spot can communicate preprogrammed messages around the world, even where cell phones won't work. You can send e-mails and text messages to cell phones, and you can also set up a website that tracks your recent messages overlaid on Google Earth satellite and terrain maps. It's the only device of its kind; it's small and it weighs less than half a pound. It could very well be the difference between being found and saved. As the advertisement says, "Having a Spot takes the search out of search and rescue."
Functions on the Spot are pretty straightforward. When things are going well on your trip, you can send an "OK" message to inform others of your location and status, and you can set the Spot to send tracking messages to your Spot website every 10 minutes. If things get hard, you can send a "Help" message to friends asking for assistance. If you end up in a perilous situation, you can hit the "911" button and transmit information to emergency services that includes your name and location—updated automatically every five minutes. There's a notepad in your account where you can enter additional information for emergency services—mine states, "I am a pilot and have probably had a problem while I was operating a very small airplane." This will let them know a little bit more about what and whom they're looking for.
Page 1 of 2