Saturday, November 1, 2008
Tech Talk: Spot Satellite Personal Tracker
It could save your life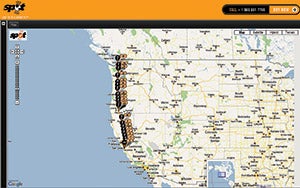 When Bill delivered an Extra 300L from Watsonville, Calif., to Friday Harbor, Wash., the owner was able to track the arrival of his new plane in real time.
My Spot is an important piece of safety equipment, but it's fun too; friends and family can see where I am along my journey. Recently, I sent my Spot website to the new owner of an Extra 300L that I was delivering so he could track when his new toy would arrive. It's also a comforting feeling to have people who are invested in my well-being know my whereabouts, especially when I'm over the mountains or if I've made an unplanned course deviation to get around weather systems. My Spot website will retain my track for seven days, which allows me to review and relive my trip after the fact.
There are some things I'd like to see develop during Spot's evolution. I confess that I'm a little worried about accidentally hitting the 911 button and having GEOS Alliance send a rescue helicopter when I don't need it. This situation would be embarrassing and probably very expensive. I'd like to have a cover over the 911 button that has to be removed or pushed out of the way before calling for serious help.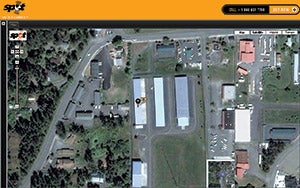 Bill checks in with an OK message once he's safely on the ground at an airport hangar.
I'd also like to see location data displayed on the device. If I end up in the wilderness and still have a sectional in my flight suit pocket, it would be helpful if Spot could tell me exactly where I am. A latitude/longitude display would be enough for emergency use to try to get to the nearest town, high ground or water source. Another feature that would be useful would be an arrow on the display that points north to keep me on track during my walk out. (Additionally, it would be great if Spot featured the ability to overlay weather information on my Spot website so that my homegrown "flight watch" friends could see what issues I was working with during a trip.)
Spot uses the Globalstar communications network, a LEO (low earth orbit) satellite constellation (48 active satellites and four spares). Reportedly, Globalstar has had equipment problems that mostly affect satellite-dropped calls; industry analysts speculate that the cause is radiation in the South Atlantic Anomaly. In addition to replacement satellites being put into orbit, new second-generation satellites are being developed with launches scheduled for 2009, so the coverage numbers should continue to improve over time. To manage this issue now, Spot sends each tracking and OK message three times to maximize hitting a communications window and getting the message through. If an emergency 911 message is sent, it's repeated until the SPOT is turned off, so these types of messages should always be received in pretty short order. The Help request to friends sends a message every five minutes for an hour, so these requests should also be extremely reliable. In my experience, the coverage for tracking messages has been excellent for all of my trips across the country, and when our P&P Editor took her Spot to Greenland in a C-130, I was able to track her in remote areas on the ice cap.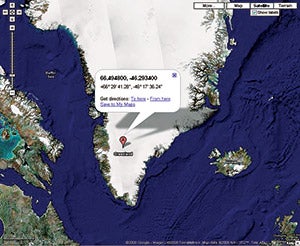 An OK/Check-in message sent from the ice cap in Greenland displays GPS coordinates sent via e-mail and text messages.
The device is priced at $169.99 and can be purchased at the company's website. Satellite service starts at $99.99 per year. The bottom line is that if I ever go down and need to be saved, I'll be very happy to have Spot in the left front pocket of my flight suit and to have spent the extra $7.95 on an emergency assistance policy. When I tell my friends that they need a Spot, I mean it! For more information, visit
www.findmespot.com
, or call (866) OK1-SPOT.
Bill Stein performs a solo act in his Edge 540 (www.billsteinairshows.com) and with the Collaborators (see Pilot Journal Nov/Dec 2007).










Page 2 of 2