Friday, February 1, 2008
Zaon PCAS XRX
Portable collision avoidance with direction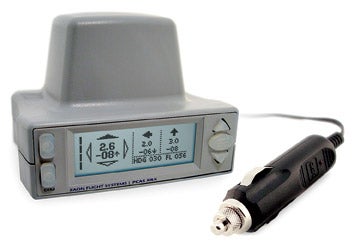 The XRX measures just 3.9x3.6x2.7 inches and has an integrated antenna on top and a display screen on the front. A cigarette lighter adapter provides power; other options are available for airplanes without a cigarette lighter.
Zaon's PCAS (portable collision-avoidance system) XRX is "the first ever portable, passive, stand-alone collision-avoidance system for general aviation to offer direction from within the cockpit." After flight-testing one at four busy airports one recent Sunday afternoon, I can confirm that it does exactly what Zaon claims.
Physically, the XRX is a small (3.9x3.6x2.7 inches) device that will fit on top of the glare shield. It features an integrated antenna on top and a display on the front that's small but contrasty (I had no trouble seeing it, even in direct daylight). Audio jacks on the XRX allow you to plug in your headset, with which you'll hear audible alerts. A cable runs from the back of the device to the cigarette lighter in your airplane (there are other options available for late-model airplanes that lack a cigarette lighter). Plug the unit in, turn it on and you're ready to go.
The XRX operates passively, receiving signals from transponder-equipped aircraft in the vicinity and estimating range based on the strength of the transponder signal, just like other portable collision-avoidance devices. Where the XRX breaks new ground is that it can indicate direction as well as distance. It does this based on a sophisticated antenna array housed in a large, vaguely pyramidal shape on top of the unit. The array includes multiple antenna elements. By comparing the strength of the signal received by each element, the XRX can estimate from which quadrant a transponder is transmitting. This gives it one huge advantage over any other portable collision-avoidance device: It tells you where to look.
The XRX displays a maximum of three targets, prioritizing them based on its estimate of which ones present the greatest risk of collision—a very close target that's moving away is considered less of a threat than a more distant target headed right in your direction. The unit also knows relative altitude for targets equipped with Mode C, altitude-encoding transponders. By default, the XRX unit ignores all targets that are more than three miles away and/or separated by more than 1,500 feet in altitude.
Page 1 of 2