Tuesday, May 24, 2011
20 Great Aviation Apps
Enhance your cockpit with an iPad
ForeFlight (HD)
www.foreflight.com
One of just a few contenders for a true electronic flight bag, the app still does a great job of flight planning as well as in-flight tracking. Georeferenced approach plates were added in the last revision, and the software will interface with a WAAS-enabled Bluetooth GPS for horizontal guidance. There's no vertical guidance though, so keep the IFR GPS and glideslope in the plane. Still the benchmark for a perfect iPad interface, the new version adds a lot more in-flight capability: fully featured navigation log, configurable moving-map display and auto-sequencing of waypoints. This iOS app is really at the point that someone should build a plane around it. $74.99-149.99/year.
Garmin Pilot MyCast
www.digitalcyclone.com/products/pilot-my-cast/iPad/
A comprehensive weather and flight-planning application with access to the AOPA airport database. There's also a moving-map feature that lets you follow the familiar magenta line. The feature set is continually expanding. Monthly subscription variable.
External GPS Units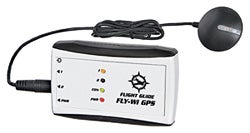 FLY-Wi GPS by FlightGuide

The built-in GPS unit in the iPad isn't something you should rely on for navigation in the sky. Each of the units below is an external GPS unit that communicates with the iPad in its own way, greatly increasingly the reliability of navigational data.



Bad Elf GPS


www.bad-elf.com
This matchbook-sized receiver plugs into the 30-pin port at the bottom of the iPad, giving WAAS GPS to killer apps like the georeferenced approach plates in ForeFlight. The receiver locks on fast, and provides a good signal as long as it has a good view of the sky. An attached GPS reduces clutter while grabbing power from the iPad, so you don't have to track charge status. Depending on the way you mount and use the iPad, Bad Elf might not get a good view of the sky; if you have a kneeboard mount this could be particularly problematic. $99.



Flight Guide FLY-Wi GPS


www.flightguide.com
The publishers of one of the most complete EFBs for the iPad have entered into the hardware business. The FLY-Wi GPS has two parts, one the size of an original iPhone, and the other a tiny hockey puck. Together, they're a WAAS GPS that transmits location data to your iPad. This unit is interesting because it works over WiFi instead of Bluetooth. This means that up to four iPad units can connect to it. Your passengers could be following the flight on their own iPads, as long as they also have a copy of Flight Guide installed. The battery lasts eight hours, with a 110V charger included. There are two ports on the unit, with the GPS antenna connecting to one of them. That leaves a place to later add a connection to XM weather or ADS-B when they're developed. My setup was a dream, and in five minutes I had six satellites locked in. $299.



GNS 5870 MFI


www.mfi.gns-gmbh.com
This bluetooth WAAS GPS receiver has a 10-hour battery life, a USB charger that worked well in my plane's 12V socket and a tiny form factor. That size is key, because I mounted it with a bit of Velcro to the glare shield for a clear view of the sky. It locks on to the GPS constellation quickly, and provides an accurate lateral guidance signal for the iPad, no matter which georeferenced charting system you're using. My only complaint is that turning it on requires swiping a finger across it in one direction. Which direction is the key, and if the battery happens to be dead, you'll be playing "pet the rock" for a while before you think to plug it in. $150.
Page 2 of 5