Tuesday, May 24, 2011
20 Great Aviation Apps
Enhance your cockpit with an iPad
Kneeboard Solutions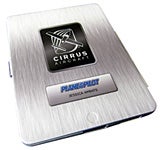 iPad Kneeboard by MyGoFlight

iPad Kneeboard Pro C


www.mygoflight.com
This strong yet lightweight aluminum case, designed for pilots by pilots, holds an iPad firmly in place for use in the cockpit. The kneeboard swings open 330 degrees, and can be secured by a removable Velcro strap to either leg, and used left or right handed. It's available in silver, black or with a high-resolution-graphic skin back, made from an adhesive-backed cast vinyl and sealed with a glossy enamel. The iPad sits within a Slim-Fit Case Back that's placed into the iPad Kneeboard Pro. The case back also serves as high-strength protection if you want to use the iPad outside of the kneeboard unit. A specialized clipboard, which includes aviation reference information such as lost comm procedures, attaches to the outside or inside of the case via magnets.



iPad Kneeboard


www.globalnavsource.com
Adjustable leg strap with a curve for ergonomic fit. Canted at the top for line-of-sight viewing.



Knee Dock iPad Holder


www.kneedoc.com
Secures to the leg with an adjustable strap and buckle.



MyClip Kneeboard


www.tietco.com
Its clips attach in either portrait or landscape mode. Secured to the leg with a faux-suede strap.



Sporty's iPad Kneeboard


www.sportys.com
A bifold kneeboard with adjustable stand. Includes mesh pockets and a zippered compartment.
Colin Summers is an instrument-rated private pilot, flying N971RD out of KSMO when he's not writing programming code for CapLinked.Com.
Page 5 of 5