Tuesday, February 24, 2009
April 2009 Readback
Surfing The Skies!

Gobosh 700X With Dynon
The new Gobosh 700X is a Dynon-equipped version of the all-metal Gobosh 700S LSA, which was introduced at Oshkosh. "Gobosh responded to the desires of the market and developed the new 700X," stated Tim Baldwin, president of Gobosh Aviation. The 700X is priced at $99,990. Visit
www.gobosh.aero
.
Phoenix East & The Middle East
Phoenix East Aviation (PEA) will train Middle East Airlines AirLiban (MEA) students to work as professional airline dispatchers for the airline. The intense six-week training will take place in Beirut, Lebanon, at the MEA facility. Visit
www.pea.com
and
www.mea.com.lb
.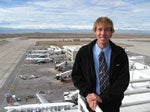 Epps Scholarship
Careers in Aviation announced that the 2008 Epps Aviation Scholarship has been awarded to Jonathan Ward, a University of North Dakota student. The $2,500 scholarship was open to students expressing a financial need and aspiring toward flight training or education in the pursuit of an aviation career. Visit
www.careersinaviation.org
and
www.eppsaviation.com
.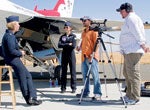 Your Story In A Pilot's Story!
Wilco Films has launched a contest in connection with its upcoming feature aviation film,
A Pilot's Story
. "Our goal with the film is to educate and inspire the next generation of pilots and astronauts," said producers Rico Sharqawi and Will Hawkins. "We want to motivate individuals who dream of flying but have not yet acted on making flight a reality." Sponsors include Virgin America, Lightspeed, Scheyden and ForeFlight. The documentary will feature such aviators as Patty Wagstaff, Thunderbirds Maj. Samantha Weeks, Erik Lindbergh and perhaps…you! Contestants can submit their own story; the Grand Prize winner will be featured in the film. Fifteen winners will also receive
Plane & Pilot
subscriptions. For contest rules, visit
www.apilotstory.com
.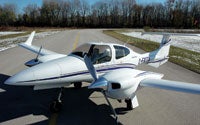 Diamond Sparkles
Embry-Riddle Aeronautical University placed an order for 10 Diamond DA42 L360 aircraft, the Lycoming-powered version of the DA42. "Embry-Riddle selected the DA42 L360 because it represents the combination of a thoroughly modern airframe and the Garmin G1000 glass cockpit with a tried and true powerplant that's common across our fleet," said Frank Ayers, Embry-Riddle's flight department chairman. Learn more at
www.embry-riddle.edu
.
Austro Engine and Diamond Aircraft have received EASA type certification for the Austro E4 turbodiesel general aviation engine (the AE 300). AE 300–powered versions of the DA40 and the DA50 will soon follow. For the existing diesel-engine-powered Diamond fleet, a retrofit solution to convert to AE 300 power will be developed. Visit
www.diamondair.com
and
www.austroengine.at
.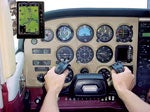 Turn Your Handheld GPS Into A Heads-Up Display
The G-Force GF2 Mount allows pilots to turn a Garmin 696/695 into a heads-up display. The GF2 is a powerful match for the heavyweight Garmin 696 and other portable, large-format displays, such as those from AvMap and TrueFlight. It features twin piston-actuated vacuum pads that deliver a rock-steady, glue-like bond to glass, plastic and nonporous painted surfaces; cast-metal components for years of tough service; tilt-turn-rotate adjustment points for personalized settings; and an optional quick-release connector that allows you to take your GPS with you, leaving the mount behind.
Contact:
G-Force Mount, (434) 242-4092,
www.gforcemount.com
.
Page 2 of 3