Tuesday, February 23, 2010
April 2010 Readback

Top Stories
Mission To The Edge Of Space
Pilot Felix Baumgartner will attempt to become the first person to break the speed of sound with his own body. He plans to ascend in a capsule lifted by a helium balloon to the upper reaches of the stratosphere. From at least 120,000 feet, he'll launch a free fall that could exceed Mach 1, and then parachute to earth.
At a briefing for the Red Bull Stratos mission, retired U.S. Air Force Colonel Joseph Kittinger, who in 1960 launched a stratospheric jump from 102,800 feet, and whose records Baumgartner aims to break, introduced the Austrian pilot. "People have been trying to break my records for 50 years, and many have died in the attempt," Kittinger said. "But I believe that with our unique assets, an extraordinary mission team, the dedication of Red Bull, and Baumgartner's outstanding skills, Red Bull Stratos will succeed." The mission is expected to launch from North America in 2010. Visit
www.redbullstratos.com
.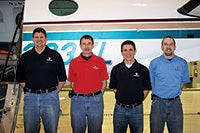 L-3 Joins Haiti Relief Effort
Todd Scholten, L-3 Avionics Systems' chief pilot, and Mark Linsley, an L-3 aftermarket business development representative, contributed to Haiti's earthquake relief efforts by transporting medical supplies in the company's King Air C90. L-3 Avionics and its sister division, ACSS, have donated a total of $25,000 toward six to eight relief flights. "The employees of L-3 Avionics Systems are a very caring and generous group, and these flights represent their commitment to help[ing] others in need," said L-3 Avionics President Jay LaFoy. Visit
www.L-3avionics.com
.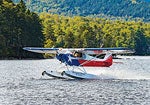 1st AmphibCub Delivery
American Legend has made the first customer delivery of a Legend AmphibCub to Dick Parsons, a retired commercial airline pilot. Parsons has flown more than 700 hours in the Legend Cub, a fraction of the number of hours he has logged in heavies on transcontinental routes. The AmphibCub LSA is configured with amphibious aluminum floats from Baumann Floats. Visit
www.legend.aero
.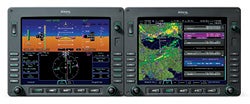 Entegra Release 9 Selected By WMU
Avidyne and Brown Aviation Lease have extended their partnership with Western Michigan University. WMU's fleet of 26 Cirrus aircraft will be outfitted with Entegra Release 9 Integrated Flight Displays. "We've been flying with Avidyne's Entegra systems on our fleet of Cirrus aircraft for the past five years, and we really appreciate the ease of use and safety the system provides," said Captain David Powell, dean of WMU's College of Aviation. Visit
www.brownaviationlease.com
,
www.wmich.edu
and
www.avidyne.com
.
New Lubricant From Shell
Shell Aviation introduced AeroShell Oil Sport Plus 2, a dedicated two-stroke engine oil for LSA. This oil is specifically developed for light, very light and ultralight two-stroke engines (such as Rotax air- and water-cooled engines), as well as premix and separate oil-injection systems. Visit
www.shellaviationstore.com
.
Page 1 of 3