Tuesday, February 21, 2012
April 2012 Readback
New Tecnam Tail Dragger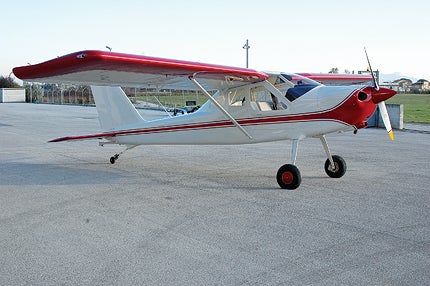 Tecnam announced the successful first flight of its latest edition to the Tecnam P92 family of aircraft, the Tecnam P92 Tail Dragger. U.S. customers will be able to choose from two engines: the Rotax 912ULS2 and the Lycoming O-233. Tecnam's market research showed a preference of more than 50% tailwheel compared with standard configuration airplanes within the worldwide GA pilot community. Other findings included a 60% preference for side-by-side seats (very few legacy taildraggers offer this cabin configuration), and 70% of pilots indicated that they preferred a metal versus fabric-constructed aircraft. ''This Tail Dragger version of the Tecnam P92 is the first new aircraft this particular marketplace has seen in a very long time, and promises its owners and pilots significantly improved flight characteristics'' said Paolo Pascale, Tecnam's Managing Director. "With the introduction of our fifth-generation P92 Eaglet in 2011 and our P92 Sea-Sky Hydroplane earlier this month, we know our customers really appreciate the continuing innovations and improvements we are making to our P92 range of aircraft.'' Full specifications, weights and performance will be revealed at the U.S. unveiling at Sun 'n Fun 2012. Visit
www.tecnam.com
.
Fly In & Help Out
Pilots with Bahamas Habitat will be flying to Eleuthera to complete the final stages of a home for abused children. The semi-annual Fly In & Help Out Event introduces international mission flying and provides hands-on experience with ongoing projects in The Bahamas. Typically, over 40 people in more than a dozen aircraft make the trip. Volunteer pilots will transport supplies and focus efforts on completing the first two buildings of the home intended to provide care and safety for 16 abused or orphaned children. Visit
www.bahamashabitat.org
.
Tecnam MRI
The Tecnam P2006T twin has been developed into an air-borne maritime surveillance platform, the Tecnam MRI (Multisensor Reconnaissance and Identification). Developed by INDRA, the Tecnam MRI is equipped with a state-of-the-art maritime surveillance system (radar, AIS vessel ID system and an electro-optical device), and will be able to patrol an area from 50 to 200 nm offshore. "Our cooperation with INDRA has resulted in the development of the most efficient and effective aerial platform to operate in surveillance and coastal patrol missions,'' said Paolo Pascale, Tecnam's Managing Director. ''It is an honor for us to have been selected by Indra to use Tecnam P2006T Next-Generation twin, one of the best-selling aircraft in its category." Visit
www.tecnam.com
and
www.tecnammri.com
.
Corvus Fusion LSA
After six months of development, Corvus Hungary rolled their new Corvus Fusion LSA out of the assembly hangar on Pordenone, Italy. Special guests Mr. Erich Wolf, General Manager of Red Bull Air Race GmbH, and Peter Besenyei, Red Bull Air Race pilot and world aerobatic champion, attended the event. The certification process will be started soon, and test flights are expected by the end of March. The Fusion was built by using experiences from the Red Bull Air Race and during the development and manufacturing process of the Racer 540. Visit
www.corvus-hungary.com
.
Living Legends Of Aviation
Mark Van Tine, president and CEO of Jeppesen, was named as the "Aviation Industry Leader of the Year" by the Living Legends of Aviation. The award recognizes the professional dedication and motivational leadership qualities embodied by Van Tine throughout his 30-year career with Jeppesen. Under the leadership of Van Tine, Jeppesen has accelerated the pace of the paper to digital flight information transformation, highlighted by the recent development of industry-leading mobile solutions for iPad and tablet computing. Van Tine also serves as a committee chair for the General Aviation Manufacturers Association (GAMA). Visit
www.jeppesen.com
and
www.livinglegendsofaviation.org
.
DA40 Fleet Order
Flight Training Adelaide (FTA) has contracted with Diamond Aircraft and Australian distributor Hawker Pacific for the purchase of up to 26 DA40 aircraft, to be based at Parafield, Australia. The first four of eight 2012 deliveries will be made mid-year, with options for 18 aircraft scheduled for 2013 and 2014 delivery. "We chose the DA40 because it was the best fit for our strategic acquisition and upgrade program. It offers the technology we desire, simplicity of operation and maintenance, and is underpinned by a strong aircraft manufacturer in Diamond Aircraft Industries Canada, who are ably supported by their partner Hawker Pacific in Australia," said Pine Pienaar, CEO of FTA. Visit
www.flighttrainingadelaide.com
,
www.hawkerpacific.com.au
and
www.diamondaircraft.com
.
Page 1 of 2