Tuesday, February 25, 2014
April 2014 Readback
50th Anniversary Of King Air's First Flight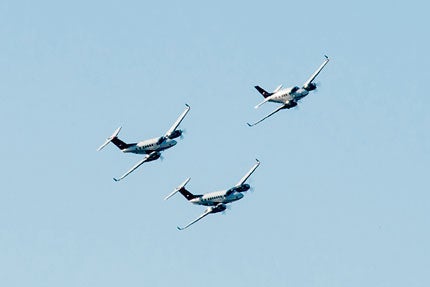 Beechcraft Corporation recognized the 50th anniversary of the first flight of the King Air Model 90 with several three-ship passes of the company's current production King Air models over its home airfield, Beech Field, in Wichita, Kan., as employees and guests watched. Nearly 7,200 King Airs have been delivered, and the worldwide fleet has surpassed 60 million flight hours. "The significance of that first flight 50 years ago cannot be overstated, nor can the work of Beechcrafters over the past five decades, to turn that one model into the legendary King Air brand," said Bill Boisture, CEO of Beechcraft. "The King Air captures more than 50% of the worldwide business turboprop market each year because we've continued to innovate and build upon its foundation with the latest advancements in technology, durability, utility and comfort. Today's celebration launches a year-long commemoration of the King Air legacy that began in earnest with the first flight of that first prototype." Visit
www.beechcraft.com.
Epic Aircraft Certification
Epic Aircraft is on schedule to certify its single-engine turboprop LT model by mid-2015. Initial aircraft deliveries of the Epic E1000 are targeted for the second half of 2015. "We already have more than 10 new confirmed reservations for the E1000, and we haven't yet started to market," said Doug King, Epic CEO. "We believe our performance and price point distinguish us in the industry, so we are ramping manufacturing to service that demand." Epic recently purchased a 204,000-square- foot manufacturing facility formerly owned by Columbia and Cessna, effectively tripling their production capacity. "We are firmly committed to achieving certification for the E1000," said King. "We have the resources, the knowledge and the experience to make it happen." Final customer builds of the experimental LT model will continue throughout 2014, but no additional orders are being taken. Visit
www.epicaircraft.com.
Wipaire Receives Brazilian Approval On Grand Caravan
Wipaire has received Brazilian approval for Wipline 8750 floats on the Cessna 208B Grand Caravan and the new Grand Caravan EX. Wipline 8750 floats are compatible with an aftermarket gross weight increase to 9,062 pounds for the Cessna Grand Caravan and Grand Caravan EX. The floats include a gross weight increase to 8,750 pounds for the Cessna Caravan. With no landing weight limitations on water or land, Wipline 8750 floats are well-suited to short-haul operations. Newly engineered designs include an improved main gear retraction mechanism, an improved oleo design and a new hull shape. Visit
www.wipaire.com
.
Win A P-51 Mustang Flight
Stallion 51 (
www.stallion51.com
) is partnering with Mercy Flight Southeast to raffle off a chance to fly in a P-51 Mustang warbird while helping Mercy Flight Southeast's worthy mission. Mercy Flight Southeast's network of 650 volunteer pilots provides free air transportation to lifesaving medical appointments for people who otherwise aren't able to get there. While pilots donate their airplanes, fuel and flight hours to complete more than 3,000 flights each year, the non-profit organization is reliant on donations and fundraising to pay for support services, and to keep passengers and pilots in the air. The raffle prize includes a half-day P-51 orientation experience at Stallion 51's headquarters at the Kissimmee Gateway Airport. Raffle tickets are $20 each, and the prize includes round-trip airfare up to $500 to Orlando. The winner will be announced on April 5th during the Sun 'N Fun Expo. Raffle tickets can be purchased at
www.mercyflightse.org/events
.
Save 50% On King Schools' ATP Course
Pilots wanting to beat the FAA deadline by getting their ATPs before August 1, 2014—after which new requirements make it much more difficult—are being treated to 50% savings on the ATP ground school and test prep from King Schools. The new $149 price will remain until August 1st, when new ATP training requirements go into effect. "If you have the hours, we want to motivate you to get your ATP now. Otherwise, you may miss an opportunity that will not come back. In fact, the high cost associated with getting an ATP after August 1st may prevent many pilots from ever achieving this cherished certificate," remarked Martha King. Visit
www.kingschools.com/ground-school/atp
.
Hartzell Sponsors Red Bull Racer
"Air show superstar Michael Goulian redefines what is possible in the air," said Hartzell Propeller President Joe Brown. "Like Hartzell, he pushes the limits while adhering to strict safety standards. We are gratified to be able to sponsor him and his race team throughout their competition for the Red Bull Air Race World Championship." As the official propeller partner for the Red Bull Air Race World Championship, Hartzell will also provide its three-blade structural composite propeller known as "The Claw," carbon- fiber composite spinners and lightweight governors to each of the 12 race teams. The Red Bull Air Race World Championship will begin in February 2014. Visit
www.hartzellprop.com
and
www.mikegoulian.com
.
Page 1 of 2