Tuesday, August 23, 2011
Aspen Has Connections
Aspen's latest product emphasizes connectivity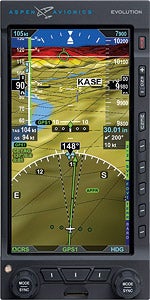 The latest option to be made available to the Aspen Avionics Evolution system is synthetic vision, in which color-coded terrain will warn pilots of ground clearance. It's priced at $2,995.
Aspen is a relatively small company producing similar glass-panel systems that are more compact but also notably less expensive than Garmin's flat-panel products. The Albuquerque company offers a combination of products designed to span the needs of everything from light singles to medium twins. The EFD1000 Pro model is intended for IFR operation, while the basic Pilot model is designed for VFR at an entry-level price under $6,000.
Aspen's Pro system is capable of generating virtually all the same capabilities as Garmin glass, but in a more compact package with reduced installation requirements more appropriate to smaller panels and more modest budgets. All the Aspen glass displays contain their own power supplies capable of driving the displays for a half hour in the event of a failure of the ship's power.
Aspen is targeting most general aviation aircraft under 12,000 pounds, and so far, there are more than 900 models on the approved list. In other words, the system is probably legal for installation into any airplane you can name outside of heavy twins and turbines. In a similar sense, the Aspen product is specifically designed to interface with a wide variety of source inputs so most instrument and radio sources should be compatible.
From the beginning, Aspen was determined to minimize perhaps the major concern of glass-panel buyers—installation cost. Aspen's products are all based on modular mounting techniques designed to reduce installation expense and make it simple to add new capabilities if a pilot decides to grow his panel. The foundation unit mounts in a single instrument hole and is intended to directly replace the ADI/HSI without affecting the readouts of other instruments.
A full listing of the EFD1000's capabilities would require most of this magazine, so we won't go through the entire list. The single-screen Aspen EFD1000, however, combines information on virtually every possible flight and navigation parameter and more: airspeed, altitude, artificial horizon, HSI, rate of climb and turn coordinator, along with CDI, ILS, DME, TAS, GS, moving map, altimeter setting, wind vector data (via an air data computer), plus traffic, NEXRAD weather, the latest stock quotes, Las Vegas odds on the Super Bowl and this weekend's list of honey-dos. Base price for the Aspen EFD1000 is $9,995.
Aspen's other products are based on the derivative EFD1000 foundation display. The Evolution 1500 System incorporates a 1000 plus a separate 500 MFD for $14,990, and the Evolution 2000 combines a pair of 1000s for dual PFD compatibility at an entry price of $17,990. Finally, the top-of-the-line Evolution 2500 offers a pair of 1000s plus a 500 to display a primary flight display, a multifunction display and a third screen for such functions as weather or approach plate. Price is $22,980. All prices exclude installation.
Aspen also offers a glass-panel backup for ADI and HSI with its own independent, 30-minute battery. This may be used in conjunction with the existing EFD1000 or any other Aspen glass, or it may be mounted as an adjunct to steam gauges.
This year at Oshkosh, Aspen announced a number of new features, including new software versions of the operating program and the significant innovation of the Connected Panel. In an obvious concession to future think, this is an electronic bridge that allows tablet computers such as iPads to communicate with the Aspen system to load flight plans, tune radios, record flight and engine data, log flight time and monitor maintenance requirements.
In one application, a pilot will be able to lay out a comprehensive IFR or VFR flight plan on his iPad at home, drive to the airport and transfer the plan directly to the Aspen PFD/MFD.
Page 2 of 3