Tuesday, June 24, 2008
August 2008 Readback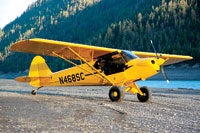 Carbon Cub Kit
CubCrafters announced the Carbon Cub Kit, equipped with either a 180 hp Lycoming O-360 or a 100 hp Continental O-200, and available as an E-LSA Kit or an experimental amateur-built kit. Each kit is offered in three subkits: Fuselage Kit, Wing Kit and Finishing Kit; all are available in various stages of completion. "We have retained the excellent flying qualities of the Cub, but redesigned every part of every assembly to be stronger, lighter, safer or easier to build," said Chairman Jim Richmond. "We've come up with an extremely clean design that reduces the total number of parts in the airplane by 50% compared to the Super Cub." Visit
www.cubcrafters.com
.
Economy's Silver Lining
Wondering how you'll get your flying in with all the gloomy economic news? Here's a tight-budget answer: the X-Air LS. Descended (and much improved) from the 1980s Weedhopper ultralight design, the side-by-side LSA seats two and smashes the $100,000 price point with a sledgehammer—list price is $46,900. The X-Air company will even finance purchase over 10 years with a 20% down payment and monthly installments of $460. The fabric-covered aircraft is powered by an 85 hp Jabiru 2200. It cruises at 90 mph, stalls at 39 mph and has a payload of 502 pounds. Range is 300 miles. Contact
www.x-airlsa.com
.

Kodiak Flight Training Underway
Four pilots have completed the Initial Training Course for the Kodiak since Idaho-based Quest Aircraft received FITS approval for its program, designed in-house, earlier this year. "We looked at several options for providing initial Kodiak training and concluded that it made the most sense to do it ourselves," said Quest President & CEO Paul Schaller. The Kodiak, which received FAA type certification on May 30, 2007, features rugged aluminum construction that combines STOL performance with a high useful load. For more, visit
www.questaircraft.com
.
Product Previews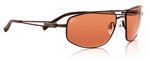 Technologically Advanced Eyewear
Serengeti Eyewear, produced by Bushnell Outdoor Products, offers an expanded lineup of aviator sunglasses. Seven distinct lens options are available within Serengeti's 30-plus styles, which are engineered to perform in nearly all conditions. The Drivers Gradient line counts a special tint—a unique brown shade developed to balance a wide scope of environmental light—among its pilot-friendly features. Gradient tinting makes the lens darker at the top, lighter at the bottom, offering a clear view of the instrument panel or dashboard with a brief downward glance. Photochromatic technology adjusts to changing light conditions and will never wear off or out because it's engineered into the glass. The high-quality lenses are matched by Serengeti's meticulous attention to a comfortable fit. For more information, contact Serengeti at (800) 423-3537 or at
www.serengeti-eyewear.com
.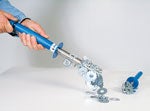 A Magnetic Pick-Up Tool
The Mag-It magnetic pick-up tool by SteelMax is a wand-like probe that quickly and easily picks up steel filings and shavings from drill presses, lathes and metal surfaces. Use it to remove items like screws that fall into an aircraft fuselage and are impossible to reach with your hands. Once removed, the metal scraps and parts can be dropped from the tool with a slide-action lever that demagnetizes the probe's tip. Available with 10-inch and 15-inch wands, the Mag-It is a useful addition to your aviation toolbox. For more information, contact Aircraft Spruce at (866) 4-SPRUCE or at
www.aircraftspruce.com
.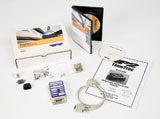 Automate Your Flight Records
An accurate, automatic and convenient system for collecting and managing flight records, TimeTrac consists of a computer installed onboard your aircraft that receives data from your existing GPS (or LORAN) and sorts flight data for management and analysis. TimeTrac automatically creates flight logs and eases the record-keeping process; it records power-up, takeoff, landing and power-down on every flight. The software links to the computer via a serial port and stores and manages downloaded flight legs and other data; it can accommodate up to 400 pilots, 100 aircraft and thousands of individual component timers. It's approved by the FAA for installation in more than 700 GA aircraft. For more information, contact P2 Aviation Technology at (888) 921-8359 or at
www.p2inc.com
.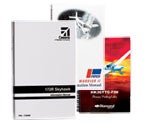 Easily Accessible Aircraft Manuals
At one point or another, you've probably experienced difficulty in locating an aircraft information manual. Sporty's has partnered with major aircraft manufacturers to offer factory-original manuals. Information manuals are available for more than 150 different aircraft, ranging from Skyhawks and Cherokees to Bonanzas and Senecas. Use them to review limitations and performance before a flying lesson or when transitioning to a new airplane. Pilots who rent multiple airplanes can rely on these manuals when they don't have immediate access to a specific model's
POH
. Cessna, Piper, Diamond and Beech manuals are available (prices range from $29.95 for a Diamond DA20 to $139.95 for a Beech A36). For a complete list of aircraft information manuals visit
sportys.com/infomanuals
. All Sporty's products may be ordered by calling (800) SPORTYS or by visiting
www.sportys.com
.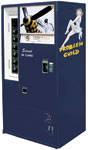 Airplanes + Soda Pop = The Perfect Drink
For those who love airplanes, an aviation-themed soda machine is a fun addition to a home, office or hangar. The machines can be adorned with any aviation company or manufacturer logo, photos of warbirds or vintage aircraft—whatever suits your fancy. In addition to restoring vintage soda machines with the familiar Coke and Pepsi motifs, Denver-based American Soda Machines (ASM) customizes these beverage icons, tapping into America's love affair with these relics. For more than five decades, soda machines have been a fixture of American life. The three primary styles of soda machines are sliders, round tops and square top . While ASM restores and sells all three of these types, the square tops provide the best "canvas" for customization. The machine can vend either bottles or cans. For more information, call American Soda Machines at (800) 448-6888 or visit
www.americansodamachines.com
.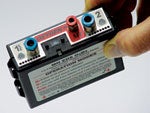 One For Two!
The two-person EDS O2D2 Pulse-Demand Oxygen Delivery System is the only portable, single unit, two-place, digital, pulse-demand oxygen system on the GA market that enables pilots and passengers to fly at pressure altitudes of up to 25,000 feet. The average user will enjoy a conservative consumption drop of four times or more compared to the manual constant flow systems. The system operates with one or two people for up to 50-odd hours on three AA batteries. The O2D2 automatically delivers the required oxygen pulses for changing altitudes. For airplanes lacking built-in oxygen systems, MH produces a fully functional portable system. To order, contact Mountain High Equipment & Supply, at (800) 468-8185 or at
www.mhoxygen.com
.
Page 2 of 2