Tuesday, June 23, 2009
August 2009 Readback
Top Stories
Smoke On In San Diego!
Nicolas Ivanoff of France won the second stop of the 2009 Red Bull Air Race World Championship (in San Diego, Calif.) on May 10, narrowing the distance between him and race championship leader Hannes Arch, who placed third after a bird strike cost him back-to-back wins. "The bird hit threw me way off course and caused me to pick up a two-second time penalty at the next gate. I had no chance of keeping the plane on the right line; I just had to check that everything was still working okay," he explained. A huge hole in the Edge 540's tailplane, which didn't affect flying performance, demonstrated the forces involved in the crash. Paul Bonhomme of Great Britain placed second in the race and is currently third in overall standings. The races will continue in Canada before the pilots head to Europe. To track races throughout the season, visit
www.redbullairrace.com
.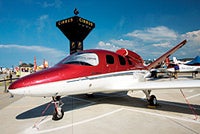 EASA STC For Aspen Avionics
The European Aviation Safety Agency (EASA) has issued the first European STC for Aspen Avionics, authorizing installation of the EFD1000 PFD into Cessna 206 series aircraft. "The European market continues to be very important to Aspen," said Aspen Avionics VP of Marketing Doug Cayne. "We're working with our European dealers and EASA-certified design organizations to assure prompt availability of a broad range of STCs for our customers in EASA member countries." EASA STCs for several other aircraft makes/models are currently in development. Visit
www.aspenavionics.com
.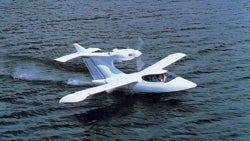 Garmin In The Cirrus Jet
Cirrus Aircraft has chosen Garmin as its avionics provider for production models of the Vision SF50 personal jet. The current Vision flying test aircraft, V1, has the Cirrus Perspective by Garmin avionics system—the same as is currently available on the SR-series of piston aircraft—and will continue its rigorous flight-test schedule. "Cirrus and Garmin are both recognized as leaders in their respective fields and share a common vision to bring innovative technologies and continuous product improvement into the GA cockpit," said Cirrus President and CEO Brent Wouters. Visit
www.garmin.com
and
www.cirrusaircraft.com
.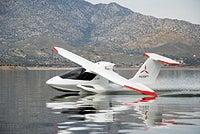 The Seawind Is Back
A year and a half after it shut down operations, Seawind has acquired the funding to complete certification of its high-performance amphibian. After ascertaining that the crash of its first test aircraft wasn't the result of an in-flight or other failure, the company set out to make its comeback. "I don't mind telling you of the devastating disappointment we felt when we had to shut down," said Seawind President Dick Silva. "Then we started to receive encouraging calls and letters from literally hundreds of people from around the world who inspired us to keep going." The reorganized operation will resume the certification effort to put Seawind in production. Visit
www.seawind.net
.
Page 1 of 3