Tuesday, June 23, 2009
August 2009 Readback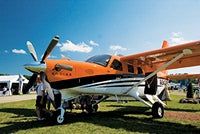 Icon A5 Completes High-Performance Water Testing
Icon Aircraft officially completed a series of rigorous hydrostatic and hydrodynamic tests on the Icon A5 amphibious sport plane. These tests verified the basic hull performance for typical seaplane operations and expanded the envelope into higher winds, rougher sea states and advanced maneuvering. Flight-testing of the prototype is scheduled to continue throughout 2009. Deliveries should begin in late 2010. Visit
www.iconaircraft.com
.
JAARS Gets Kodiak Aircraft
JAARS is the first mission/humanitarian organization to purchase and receive the specialty Kodiak aircraft, securing serial number 008. Quest Aircraft's Kodiak is a 10-place aircraft with a turboprop engine capable of short takeoffs and landings that uses readily available jet fuel and can carry a 3,100-pound load. Serial number 008 is headed to the island nation of Papua New Guinea, which will provide transportation to many of the people who live in the island nation's rugged mountains and remote coastal areas. Visit
www.jaars.org
and
www.questaircraft.com
.
Pilot Insurance Center
Pilots who fly for a living have always had a difficult time acquiring disability insurance, partly due to the nature of the job and the medical qualifications required to maintain their license. The Pilot's Disability Insurance Plan is available for commercial, corporate, aerial applicator, cargo, helicopter and firefighting pilots. The center's founders, Randy Williams and Bill Fanning, have more than 20 years of successful insurance- and estate-planning experience and have been active pilots since their late teens. Visit
www.piclife.com
.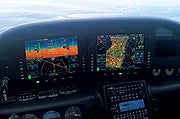 Entegra Release 9 In The SR22
Avidyne has completed the first customer retrofit of its Entegra Release 9 Integrated Flight Deck in a Cirrus SR22. "This Entegra Release 9 installation was started just days after we received our STC approval, and the time from aircraft arrival to customer delivery was under two weeks," said Avidyne COO Patrick Herguth. Avidyne has also partnered with PS Engineering to deliver an Entegra Release 9–compatible audio panel. Visit
www.release9.com
and
www.ps-engineering.com
.
PRODUCT PREVIEWS

Easy Engine Monitoring
The newest addition to J.P. Instruments' product line, the EDM-730/830, revolutionizes engine monitoring by the integration of a full-color graphical LCD screen in the smallest package size on the market. Oil pressure has been added to the entire EDM series line. Mounting is easy with the standard 31⁄8-inch format, and units can be fastened in either portrait or landscape orientation. Contact: J.P. Instruments, (714) 557-3805,
www.jpinstruments.com
.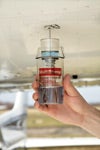 Fuel Testing Made Easy
Many new aircraft have more than 10 fuel sumps, which can overwhelm standard fuel testers. The MultiSump increases capacity without compromising safety, and it can check up to eight sumps. The device features a stainless-steel push rod, one-hand operation, a no-drip pour spout and a quick-acting drain valve. Draw a sample from the sump, inspect it in the upper sampling cup, and then transfer the fuel to the lower catch can by tipping the cup in any direction. Contact: Sporty's, (800) SPORTYS,
www.sportys.com
.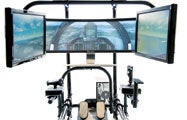 Ticket To Ride
HotSeat Chassis offers a low-cost flight simulator with a 200-plus-degree field of view that immerses a pilot with the full scope of visual flight markers. The triple-screen HotSeat Pilot Pro has a patented "Slide Away" design for easy entry and exit. Constructed from durable powder-coated steel with welded accessory mounts, the Pilot Pro offers six-speaker 5.1 Dolby Digital surround sound with a subwoofer under the seat. Contact: HotSeat Chassis, (877) 426-3879,
www.hotseatinc.com
.
Page 2 of 3