Tuesday, June 23, 2009
August 2009 Readback

Pass Your Checkride
Sporty's Online Maneuvers Guides explain the maneuvers required for the recreational, private, instrument and commercial checkrides. Adapted from Sporty's printed
Maneuvers Guides
, these provide step-by-step instructions. Multi-angle perspectives show the maneuvers from both inside and outside the airplane. Contact: Sporty's, (800) SPORTYS,
www.sportys.com
.

Practice Effective Risk Management
The new
FAA Risk Management Handbook
offers a wealth of information and resources on the methods pilots use to assess risk. The comprehensive manual covers subjects such as human behavior, identifying and mitigating risk, aeronautical decision-making, single-pilot resource management, automation and risk management training. Contact: ASA, (800) ASA-2FLY,
www.asa2fly.com
.

Not Your Average Pitot
The Aerogizmos Pitot has several advantages over a standard pitot tube: It incorporates the mount and the tube in one convenient unit, negating the need for a separate mount. Made from a single piece of 6061 aluminum, the strong, durable unit has a modern look, a polished finish and is easy to mount. Contact: Aircraft Spruce, (877) 477-7823,
www.aircraftspruce.com
.

Comfortable Training Glasses
Designed by pilots for pilots, Blockalls training glasses weigh less than one ounce and are engineered to easily penetrate the seal of your headset, eliminating the hassle of removing it first. They can be worn for extended periods of time without discomfort, thanks to the soft-rubber nosepiece and streamlined temple tips. Tailored off-center viewing keeps more of your time inside the flight deck rather than outside. Contact: Aircraft Spruce, (877) 477-7823,
www.aircraftspruce.com
.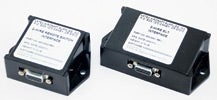 Reduce Your Installation Costs
In order to reduce installation costs for aircraft owners upgrading to Artex 406 MHz ELT systems, Cobham Avionics-Artex Products offers the Artex 2-Wire Remote Interface System. Many existing TSO-C91a installations with Juliet, Pointer and Narco 121.5 MHz ELTs use two wires between the cockpit remote switch and the ELT. Other 121.5 MHz ELT manufacturers use three or four wires. Artex uses just two existing wires from the wiring harness to connect the new cockpit remote switch to an Artex 406 MHz ELT, offering a more simplified, cost-efficient upgrade. Contact: Cobham Avionics-Artex Products, (800) 547-8901,
www.artex.net
.
Page 3 of 3