Tuesday, June 22, 2010
August 2010 Readback
LSA Measures Volcanic Ash
Top Stories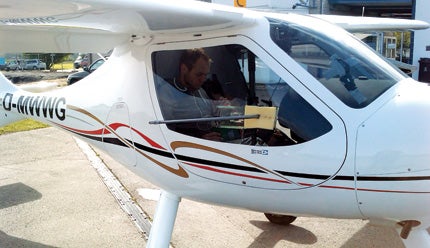 A specially equipped Flight Design CT Supralite is being used by the Duesseldorf Technical University's Department of Volcanology to measure volcanic ash and assess problems for airliners. To allow higher-altitude measurements, the CT Supralite was equipped with an oxygen system. In particular, sulfur and particle concentration was measured in steps of 1,000 feet up to 14,000 feet. The objective was to quantify or correlate the calculated location and density of the ash cloud with reality. "It is interesting to see that an LSA can help in this very public case," reported Flight Design CEO Matthias Betsch. "As the CT series is a perfect survey aircraft, Flight Design believes that more of its aircraft will be used for this kind of purpose." Visit
www.flightdesign.com
and
www.flightdesignusa.com
.

Kodiak Weight Increase
Quest Aircraft received FAA approval to operate the Kodiak at a maximum takeoff weight of 7,255 pounds, an increase from the existing 6,750 pounds. The useful load of the aircraft has increased to 3,535 pounds. "The gross weight increase is one of the modifications our customers have been interested in, and we are pleased that we have now achieved this heavier payload capacity," said Quest Aircraft President Paul Schaller. "The Kodiak was designed for mission and humanitarian aviation organizations to perform under extremely rigorous conditions in the most remote regions of the world. The gross weight increase enables them to carry more cargo and/or passengers for an even more effective execution of their operations. Visit
www.questaircraft.com
.

Connect Online
www.myAirport.com
is a free resource for general aviation pilots and airport users to connect with one another and to find specific information on any airport. Kevin Eldredge, a San Luis Obispo-based entrepreneur and Reno air-racing veteran, was inspired to create
myAirport.com
to promote and preserve general aviation. He teamed with AP Logic, a web design and software development firm. The site features free classified listings, events tools and user forums that are geographically centered by airport.
Fan Club At Oshkosh
PS Engineering has launched a fan club! During EAA AirVenture, aircraft owners who have a PS Engineering intercom, audio panel or in-flight entertainment system can become fans by submitting a photo of their PS installation to the PS Engineering booth in Building D, where they'll be entered in a drawing to win a flight in an AT-6 with the AeroShell Aerobatic Team. The drawing will be at 4:30 p.m. on Friday, July 30, and the flight will take place on Saturday, July 31. "We have had the best marketing from pilot-to-pilot word of mouth," said VP Gary Picou. "We felt the need to recognize the vital contributions that our fans have made to PS Engineering. " Visit
www.ps-engineering.com
.
RAM Discounts
RAM is offering American Bonanza Society (ABS) members a $500 discount off the purchase of each RAM OHE TCM engine. This ABS member discount is available on engines shipped to FBOs for local installation or replacement engines installed at RAM in Waco, Texas. This discount can be used for RAM replacement engines, RAM upgrade packages or RAM IO-520 to IO-550 conversion packages. Visit
www.ramaircraft.com
.
Page 1 of 3