Tuesday, June 22, 2010
August 2010 Readback
LSA Measures Volcanic Ash

New Seats for Caravan
Current Caravan owners now have the opportunity to upgrade their Caravan seating through Cessna's network of more than 300 authorized service facilities. "The new seats offer added comfort and seat functionality for passengers compared to the factory-installed seats," said Cessna VP of Cessna's Parts Distribution Peter Wilkinson. "The seat height will allow passengers a better view. They also include optional tray tables, forward and aft tracking, adjustable headrests, retractable armrests and the ability to recline." 2010 marks the 25th anniversary of the Caravan. Cessna will deliver its 2,000th Caravan, a Grand Caravan, later this year to a retail customer. Visit
www.cessna.com
.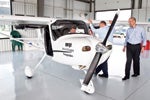 Skycatcher Winner
On May 5, Sporty's Pilot Shop took delivery of its first Cessna 162 Skycatcher. Ten days later, the Skycatcher was given away as part of Sporty's annual airplane sweepstakes. The winner was Alan Horowitch from Yuma, Ariz. The drawing was on Saturday during Sporty's fly-in at its headquarters outside Cincinnati, Ohio. "Sporty's annual airplane giveaway does a lot to promote general aviation and the fun of flying—exactly why we designed the Skycatcher," said Roger Whyte, Cessna senior vice president, Sales and Marketing. "The Skycatcher is going to be a catalyst for increased pilot starts. It will significantly change the economics of ownership and operation for flight schools, aircraft renters and aircraft owners, and will benefit the entire general aviation community."

CAP Responds To Oil Spill
Civil Air Patrol members from Mississippi, Alabama and Florida are launching daily aerial damage-assessment flights from the Mobile Convention Center, one of several incident command posts set up for the Gulf Coast oil-spill response. Responding in its role as the U.S. Air Force auxiliary, Civil Air Patrol is flying critical missions in support of Deepwater Horizon Response. They've flown VIPs over coastal waters to get a look at the integrity of oil-containment barriers, transported vital mission equipment, collected data and flown coastline photo reconnaissance missions. The most important task the CAP aircrews perform is making daily flights over 700 miles of coastline from Louisiana to Florida and taking digital images of the oil-containment barriers and adjacent land area near the shoreline. In 13 days of flying missions, 26 volunteers have expended 2,128 man-hours, making 73 flights in 12 CAP aircraft, for a total of 197 hours in the air.
Avidyne In KC-100
Avidyne has been selected by Korean Aerospace Industries to provide the avionics system for their upcoming KC-100 aircraft, a four-seat composite aircraft. It's intended to be the first Korean-developed and -certified civil aircraft. The panel will include dual Integrated Flight Displays and WAAS-capable FMS900w Flight Management Systems. "We are honored to be selected as the avionics provider for this program," said Avidyne CEO Dan Schwinn. Visit
www.koreaaero.com
www.avidyne.com
.
PRODUCT PREVIEWS

Updated Instrument Rating Course
Sporty's Complete Instrument Rating Course has been significantly updated with new video and graphics. In-depth coverage has been given to flight directors, HSI, autopilots, night IFR, high-performance engine management, turbocharging, pressurization, oxygen use, high-altitude flying and RNAV approaches. Available as a DVD or download.
Contact:
Sporty's,(800) SPORTYS,
www.sportys.com
.

Greeting Cards For Pilots
Powder Puff Pilot's Not for Navigation Greetings are a boxed set of eight note cards for aviators. The cards come in two variations: thank you and all occasion. Each card pairs an aviation graphic—such as an IFR or VFR chart or instrument approach plate—with plays on aviation terms.
Contact:
Powder Puff Pilot, (720) 256-3442,
www.powderpuffpilot.com
.

iPhone GPS Guides
Max Trescott GPS Guides for the iPhone, introduced through a partnership with Hilton Software, help pilots use the Garmin 430, 430W and Aera GPS. The apps work as illustrated self-learning guides and as quick reference checklists. With the iPhone, pilots are never without GPS information they need. Visit iTunes and search for "Trescott" or "Garmin."
Contact:
Max Trescott, (800) 247-6553,
www.glasscockpitbooks.com
.
Page 2 of 3