Tuesday, June 22, 2010
August 2010 Readback
LSA Measures Volcanic Ash

Six-Screen Sim
The six-screen Emulation Pilot Pro 6.0 Surround View Flight Simulator from HotSeat Chassis offers a 200-degree field of view with left, center and right views displayed on three HD monitors. Cockpit instruments are displayed on three additional screens, including one overhead. The simulator enables students to fly any plane from every field in Flight Sim X.
Contact:
HotSeat Chassis, (860) 582-5031,
www.hotseatsim.com
.

Ticket To Ride
The HotSeat Pilot Pro Basic Flight Simulator's surround views and surround sound deliver an in-cockpit experience to your home. Install your own PC, screens and flight controls, or purchase from HotSeat Chassis. Your cockpit monitor can be configured to display the instrument panel, GPS and radios. Practice VFR and IFR flights. Available software from Flight Sim X or X Plane takes you to any field in the world.
Contact:
HotSeat Chassis, 860-582-5031,
www.hotseatsim.com

Protect Your Plane
Developed for aviation applications, Ameritech Aerospace Protectant (AAP) leaves a like-new, nonoily, anti-static finish that repels dust. It also prevents UV-caused slow fade on plastics, Plexiglas, Lexan, door seals, wing and prop de-icing boots, tires, vinyl and leather interiors. Surfaces last longer and are easier to maintain.
Contact:
Aircraft Spruce, (877) 477-7823,
www.aircraftspruce.com
.

Airplane Safety
Trisoft Covers are foam triangular covers that slip onto the corners of an aircraft's gear doors, wing flaps (in the lowered position), wing tips, prop tips and dorsal antennas, protecting aircraft personnel and aircraft during maintenance, preflight checks, cleaning, etc. The covers are made of chemical- and UV-resistant EVA foam. With Trisoft you can protect your aircraft and your employees.
Contact:
Trisoft Covers, (800) 844-2371,
www.trisoftcovers.com
.
In Print & On DVD

Such Men as These: The Story of the Navy Pilots Who Flew the Deadly Skies over Korea by David Sears (Da Capo Press, 2010, ISBN: 9780306818516). After conducting research on navy aviators in Korea, James Michener went on to write The Bridges at Toko-Ri. Using Michener's notes, author David Sears tracked down the actual pilots to tell their riveting, true-life stories.



From Props to Jets: Commercial Aviation's Transition to the Jet Age 1952–1962 by Jon Proctor, Mike Machat and Craig Kodera (Specialty Press, 2010, ISBN: 9781580071468). The years 1952 to 1962 saw the rise of luxurious piston-powered airliners, but jet airliners soon rendered them obsolete. Aircraft like the Boeing 707, DC-8 and Convair 880 gave birth to the jet age. This is an in-depth look at all the aircraft that made commercial jet flight possible.


The Student's Flight Manual: From First Flight to Pilot Certificate by William K. Kershner (ASA, 2010, ISBN: 9781560277194). This updated 10th edition presents practical information while encouraging student decision making. Learn the fundamentals of flying and prepare for the private or sport pilot certificate. Order from www.asa2fly.com.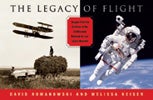 The Legacy of Flight: Images from the Archives of the Smithsonian National Air and Space Museum by David Romanowski and Melissa A.N. Keiser (Bunker Hill Publishing, 2010, ISBN: 9781593730833). This stunning documentary history of the last 100 years of aviation and space flight highlights the achievements of the famous and the everyday people involved in the endeavor, plus every major type of aircraft and all the professions that make them work.



The Flight of the Century: Charles Lindbergh and the Rise of American Aviation by Thomas Kessner (Oxford University Press, 2010, ISBN: 9780195320190). Charles Lindbergh's transatlantic flight ushered in America's age of commercial aviation. This fresh look at one of America's greatest moments explains how a publicity stunt became a turning point in history. This book fully explores Lindbergh's central role in promoting the airline industry.


Page 3 of 3