Tuesday, June 19, 2012
August 2012 Readback
Sling LSA Certified!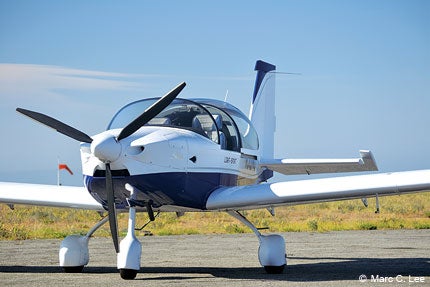 On April 18, The Airplane Factory received its S-LSA Airworthiness certificate for the first Sling LSA (N511NG). The Sling began development in 2006 in South Africa, and over 60 airplanes have been delivered to other parts of the world, with over 100 orders received by the factory to date. This airplane is the first U.S.-registered Sling. The Sling was designed to make full use of the LSA envelope and to be in compliance with ASTM standards for Special Light-Sports. In 2009, company owners Mike Blyth and James Pitman flew one of the Sling prototypes around the world, including legs of over 22 hours over ocean, and stopped at EAA AirVenture 2009, where they were an attraction in the main square. The Airplane Factory is headquartered in Johannesburg, South Africa, where they employ 75 full-time staff, and produce five ready-to-fly Slings per month, and many more kits. The Airplane Factory, in Torrance, Calif., is the U.S. entity responsible for marketing, distributing and supporting the Sling line of aircraft in North America. Sling N511NG will be based at Torrance Airport and will be flying to Oshkosh AirVenture 2012 , where it will be on display at Booth #305. Visit
www.airplanefactory.com
.
Flight Guide App
Airguide Publications announced the release of v4.2, a free update for their Flight Guide iEFB iPad application. It includes Guardian Aero 454 integration with the app for a wireless flight-plan link to Garmin 430, 530, GNS650, GNS750, G900 and G1000 panel-mounted GPS receivers. "This will eliminate the need for pilots to input the same flight plan twice, since Flight Guide iEFB, through a wireless connection with the Aero 454 and a Garmin GPS, instantly displays any created or edited flight plans on iEFB's Seamless Flight Planning Charts," said Ash Vij, President of Guardian Avionics. "Pilots will also no longer need an external GPS device for their iPad, since reliable WAAS GPS data is wirelessly sent from their Garmin panel mount through the Aero 454 and received on any iPad running Flight Guide iEFB." Visit
www.flightguide.com
.
Bahamas Incentive
To promote the diversity of its 700- archipelago chain, The Bahamas Out Island Promotion Board (BOIPB) announced a promotion that provides a $150 credit savings on a two-night consecutive stay at any participating hotel for general aviation pilots traveling to multiple Out Islands on the same flight itinerary. "Private pilots have a better opportunity than most to visit more than one Island at a time, so we wanted to make it even easier for them to enjoy venturing out," Valery Brown-Alce, Sr. Director Marketing, BOIPB, said. Visit
www.bahamas.com
.
ADS-B Solutions
Essential Flight Technology (EFT) and NavWorx announced a partnership to produce portable ADS-B weather solutions for iOS, Android and Windows devices. EFT will be the exclusive distributor for the Apple iOS-based version of the PADS WxBox. "We are pleased to announce the development of a wireless ADS-B solution to support all major software platforms in the cockpit without tying customers to a specific charting solution. Our Chartflier technology is designed to work on all platforms, allowing EFT to integrate with any vendors wishing to make flying safer by making ADS-B in-cockpit weather more accessible and affordable," said Colin Bitterfield, President of EFT. Visit
www.essentialflight.us
.
Embry-Riddle Champs
For an impressive eighth time, the Golden Eagles flight team from Embry-Riddle's Prescott, Ariz., campus won the National Intercollegiate Flying Association's annual Safety and Flight Evaluation Conference (SAFECON) national competition. In addition, the Eagles flight team from Embry-Riddle's Daytona Beach, Fla., campus also had a strong finish, placing sixth overall out of a total of 34 collegiate aviation teams from around the nation who competed May 14-19 at Kansas State University in Salina. Visit
www.nifa.us
.
Insight G3
Once an engine-log system, Insight's G3 is now a complete aircraft performance-log system. Its engine monitor is now capable of receiving RS-232 serial data from the company's TAS-1000 MFDS that includes IAS, TAS, pressure altitude, true air temperature, heading, and wind direction and speed, in the data log file on every flight. Visit
www.insightavionics.com
.
Page 1 of 3