Tuesday, June 24, 2014
August 2014 Readback
CTI Professional Selects Diamond Aircraft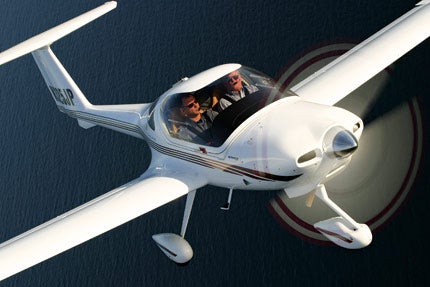 CTI Professional Flight Training selected the Diamond DA20-C1 as its primary trainer and the Austro engine-powered DA42 as its complex, multi-engine trainer. Diamond Regional Distribution Centre Premier Aircraft Sales of Fort Lauderdale, Fla., negotiated the agreement, which includes training, support and acquisition of a fleet of 22 aircraft plus 10 options with a total value of $7.8 million. CTI President Alan Mullen said, "We looked carefully at all competitors in the marketplace; at the end of the day, Diamond's safety record, low operating costs, modern design, training effectiveness, and excellent customer service and warranty support left no rational alternative." Following the successful acquisition of Professional Flight Training, LLC, in the spring of 2014, CTI's flight academy operations are being conducted by its wholly owned subsidiary, CTI Professional Flight Training, in Fort Lauderdale. New operations are scheduled to commence at CTI's facilities in Millington, Tenn., in the summer of 2014. Visit
www.cti-crm.com
and
www.diamondaircraft.com
.
GlobalParts Group Acquires Meyers Aircraft
GlobalParts Group of Augusta, Kan., distributors and producers of quality parts for business and general aviation, announced that they've acquired the Type Certificate, intellectual property, tooling and assets of the Meyers Aircraft Model 200 type design and have formed a subsidiary, Interceptor Aviation, to facilitate the servicing and support of the high-performance single-engine model, which was originally certified in the 1960s. The acquisition also includes the TC for the only existing example of the pressurized single-engine turboprop Interceptor I-400, which was derived from the Model 200.
Embry-Riddle Degree in Unmanned Systems
Embry-Riddle's new Master of Science in Unmanned Systems will begin in August and examine the application, development, management and policies of unmanned systems and address issues including regulation, systems design, policy and ethics, education and training, and human performance and machine interaction. The degree has concentrations in the following areas: unmanned aerospace system (UAS), aeronautics and design, human factors, space systems, safety/emergency response, operations, education, aviation/aerospace management, and aviation/aerospace research. Embry-Riddle Worldwide also offers a minor in unmanned aerial systems as part of a Bachelor of Science in Aeronautics and a specialization in unmanned aerospace systems in the Master of Aeronautical Science. Visit
www.worldwide.erau.edu/unmanned
.
King Schools Discount For ATP Training
Pilots who pass the ATP written exam before August 1 of this year won't have to take the expensive ground and simulator training that will be required after that date. A surprise bonus is that once you pass the knowledge test, you'll have two years to pass the practical test. It will save pilots money, plus they won't need to have the 1,500 hours that are currently required for an ATP. "To help motivate pilots to get this done now," said John King of King Schools, "we are making it easy on their pocketbooks by offering a 50% discount on our Airline Transport Pilot ATP Interactive Video Ground School and Test Prep course right up until the FAA deadline." Visit
www.kingschools.com
.
Pipistrel Completes FAA LSA Audit
Pipistrel announced that it successfully completed the FAA LSA operations audit. In February, the FAA audit delegation visited and verified compliance to FAA regulation and ASTM LSA standards at Pipistrel's factories in Italy and Slovenia. The audit consisted of compliance verification of Pipistrel's products, production organization, continued airworthiness procedures, maintenance aspects and documentation for LSA aircraft sold in the USA market. Ivo Boscarol, Pipistrel CEO said, "Meeting the highest safety standards and compliance with the rules and regulations is essential in the global market. Having received acknowledgement by the FAA that our operations not only meet, but exceed what is expected for the LSA industry is a statement to our ongoing commitment to serve customers with highest quality products." Visit
www.pipistrel-usa.com
.
China Certifies Robinson R66
China's civil aviation authority, the CAAC, certified the Robinson R66 Turbine helicopter on April 29, 2014, almost one year to the day that the certification process began. China joins the now over 50 countries that have certified the R66. Foreign markets have historically represented two-thirds of Robinson's sales. To date, approximately 500 R66 helicopters operate in more than 30 countries, and Robinson estimates total fleet hours at over 160,000. In response to customer feedback, glass and touch-screen avionics were recently added to the R66's options list. Visit
www.robinsonheli.com
.
TBM 900 Interior App
Daher-Socata released a new application for customization of the TBM 900's cabin interior, as well as the updated versions of its three primary apps—all available at no cost for the Apple iPad. The TBM 900 Interior app is a virtual configurator that allows the user to visualize various configurations for a TBM 900 cabin interior by selecting a combination of eight standard leather shades and an additional 36 optional shades for wood, carbon fiber fittings, carpets and optional storage cabinets. Visit
www.tbm.aero
.
Page 1 of 2