Tuesday, June 19, 2012
Cockpit Cameras
Which point of view is right for your flying adventures?
| | |
| --- | --- |
| Go Pro | |
GoPro
www.gopro.com
The new HD HERO2 captures 1080p video with wide 170-degree coverage. With a slightly bigger sensor than its predecessor, it also features 11-megapixel stills and burst shooting at 10 frames per second, and can shoot a time-lapse sequence at half-second intervals. A new display with clear icons improves on the prior model's often-confusing display. GoPro pioneered the stick-it-anywhere-and-go philosophy, and they hold true to this today. With their robust line of mounting options, you can stick your camera just about anywhere in a matter of seconds, although it can be cumbersome on the side of a headset. The housing is required for mounting the camera and provides a durable shockproof box that can take a lot of abuse. GoPro has several packages available that are packaged with either a fully waterproof housing or a skeleton housing for running wires in and out (the camera features an external microphone port). The battery provides about two hours of filming and an add-on extended battery backpack can double the run time. Upcoming accessories include a WiFi BacPac and a WiFi remote control to trigger the shutter. The GoPro Hero2 lists for $299 and packaged in the motor-sport bundle, which works best for aviation. A $79.99 LCD backpack allows you to align your shot. Widest field of view: 170 degrees.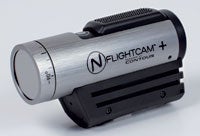 Nflightcam
Nflightcam
www.nflightcam.com
The Nflightcam+ and Nflightcam Sport are aviation-modified versions of the Contour+ and Contour ROAM respectively, packaged with a proprietary Aviator Lens to reduce propeller distortion and an aviation audio cable to capture intercom audio. The Nflightcam+ also takes advantage of the built-in GPS receiver to geotag the entire video. It can be played back with Nflight Viewer, an app that displays your position in Google Earth and your groundspeed, altitude and heading on aviation-style gauges. The cylindrical housing is great for mounting to the side of a headset or helmet, and the rotatable lens on the front of the aluminum bullet-style tube opens up a wide range of possibilities for mounting the camera. Nflight has developed a line of aviation-specific mounts, such as their Surface Spud Mount for experimental aircraft that can be used to attach the aerodynamic camera to the airframe anywhere there's a #6, #8 or #10 machine screw or an AN4 bolt. Nflightcam's simple two-button design keeps the interface very simple. You can do two things on the camera: turn it on/off and start/stop recording. Contour's Connect View Application allows the camera to connect via Bluetooth to any iOS or Android mobile device providing a remote viewfinder for aligning the shot and a graphical user interface for selecting the quality and mode for the camera. Nflight is a small aviation-specific company and requires everyone on their tech-support team to be a pilot, making it easy to get expert advice on using your camera in an airplane. The Nflightcam+ is priced at $499, and it's ready to fly out of the box with features like the Aviator lens, aviation audio cable and GPS that aren't available on any other camera. Widest field of view: 170 degrees.
| | |
| --- | --- |
| Drift HD. The built-in 1.5-inch LCD screen on the Drift HD is used to configure the camera and helps to compose a shot. | |
Drift Innovation
www.driftinnovation.com
Like NFlightcam, the Drift HD camera was designed to be mounted on the side of the helmet rather than the front. Its built-in 1.5-inch LCD screen makes it easy to configure the camera and to align your shot. You also can play back your video right away, and right on the camera. Built-in ¼"-20 threads make it compatible with conventional camera mounts, and a rotatable lens provides flexibility when it comes to mounting angles. However, the inability to shoot through the propeller with out distortion limits this camera to angles that don't involve a propeller. Other notable features include a remote control and an external microphone input. The Drift HD retails for $349. Widest field of view: 170 degrees.
Page 2 of 3