Tuesday, October 21, 2008
December 2008 Readback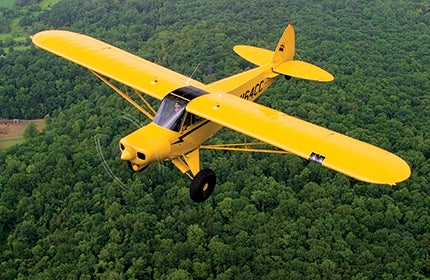 Australia's Civil Aviation Safety Authority has granted CubCrafters' CC18-180 Top Cub type certification, which allows new, certified, ready-to-fly Cubs to be delivered to customers in Australia for the first time. The Top Cub was certified in the States in December 2004; it received type certification from Transport Canada in early August, and has now been approved on floats and wheels in Canada and Australia. (On September 8, the first Canadian-registered Top Cub was delivered to owner Bernard Brossard in Montreal, Quebec.) Visit
www.cubcrafters.com
.
New AFIT Programs
Accelerated Flight & Instrument Training has announced that it will offer new Pilatus PC-12 Accelerated 10-Day IFR Training Programs across the United States. AFIT has trained and licensed senior instructors specializing in and dedicated to the Pilatus PC-12 and its owner. See AFIT's new e-brochure to learn about the company's many services. Visit
www.afit-info.com
.
New iPhone App
Laminar Research has released a version of X-Plane for Apple's iPhone. X-Plane is a highly customizable flight simulator that uses "blade element theory" technology to model flight characteristics; some of its implements have been certified for logging simulation flight time for pilots. While X-Plane had to be scaled down for the iPhone, many of its key characteristics remain intact: You can adjust types of weather conditions and turbulence characteristics, and you can also choose from different aircraft models. X-Plane 9 runs on any iPhone or iPod touch running at least iPhone 2.0. Visit
www.x-plane.com
.
Redbird & Xwind Join Forces
Redbird Flight Simulations is now the exclusive dealer for the Xwind 200 Crosswind Landing Trainer. The Redbird Xwind teaches proper crosswind landing techniques and sharpens stick-and-rudder skills by employing an electric motion platform that provides 60 degrees of roll, 90 degrees of yaw and 14 feet of lateral drift. "The combination of Redbird and Xwind delivers compelling value for our customers," said Redbird CEO Todd Willinger. "It allows us to extend our leadership in providing exceptional motion-based flight simulation at a price point that all flight-training programs can afford." Visit
www.redbirdflightsimulations.com
.
Page 1 of 4