Tuesday, October 21, 2008
December 2008 Readback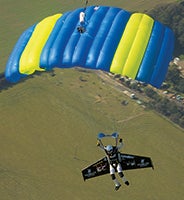 Jet Man Crosses English Channel
On September 26, Swiss adventurer Yves Rossy became the first person to fly across the English Channel using a homemade, single, jet-powered wing. Covering the 22-mile distance in 13 minutes, he traveled at an average speed of 125 mph. Rossy traced the route of French aviator Louis Blériot, the first person to fly an airplane across the English Channel. An airplane transported Rossy to nearly 8,200 feet, at which point he started his four engines and jumped out of the plane above Calais, France. Once his wing stabilized, Rossy began traveling full throttle for the United Kingdom, landing at the White Cliffs of Dover. He hopes to next tackle the Grand Canyon. Visit
www.fusionman.ch
.
Mooney's New CEO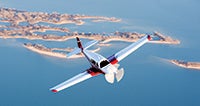 Robert B. Gowens has been named the CEO of Mooney Airplane Company. He brings more than 36 years of senior leadership experience to his new role. While Gowens has assumed the CEO role, Dennis E. Ferguson remains the president of Mooney. "Bob Gowens brings a valuable mix of top-level operating, strategic and financial leadership to Mooney, having served as both a chief executive and a management consultant," Chairman of the Board Steven E. Karol said. Visit
www.mooney.com
.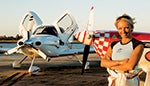 Goodyear Sponsors Patty Wagstaff
Goodyear Tire & Rubber Company has announced that it will supply Patty Wagstaff's Cirrus Extra 300S with Flight Custom III tires. Wagstaff, a six-time member of the U.S. Aerobatic Team, was the first woman to win the title of U.S. National Aerobatic champion. "I'm happy to be affiliated with the world's largest supplier of aviation tires and am looking forward to being part of the Goodyear team," said Wagstaff. Visit
www.goodyearaviation.com
and
www.pattywagstaff.com.

Sporty's Sweepstakes Winner
Jeff Hux of Sikeston, Mo., is the winner of the 2008 Sporty's Sweepstakes. He wins a brand-new, Garmin G1000–equipped Cessna 172 Skyhawk, two Bose Aviation X headsets and a fully stocked Sporty's Leather Flight Gear bag. Hux, a commercial pilot with an instrument rating and 1,700 hours of flying time, will travel to Batavia, Ohio, to receive his airplane and a complete G1000 checkout. The 2009 drawing for a brand-new Cessna Skyhawk with Garmin Synthetic Vision Technology is scheduled for May 16, 2009, at Sporty's Annual Fly-In and Open House. Visit
www.sportys.com
.

Around The World For A Cause
Two women plan to fly a Mooney 201J around the globe in seven days to raise $1,000,000 for ALS (Lou Gehrig's disease). CarolAnn Garratt, a 3,100-hour instrument-rated private pilot, and copilot Carol Foy will depart early December from Orlando and head west with stops in San Diego, Hawaii, Guam, Thailand, Oman, Gabon, Cape Verde and then back to Orlando again. The Mooney will be equipped with two 50-gallon wing tanks and one 120-gallon tank in place of the passenger seats, providing for an endurance of 24 hours. Garratt lost her mother to ALS in 2002 and is paying for the attempt on her own. All donations go directly to the ALS Therapy Development Institute. Visit
www.alsworldflight.com
.
Page 2 of 4